Hard Rock Chairman Reveals Plans For Shuttered Trump Taj Mahal Casino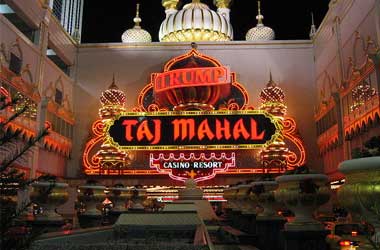 Jim Allen, the chairman of Hard Rock International has finally revealed plans under consideration for the company's recently acquired shuttered Trump Taj Mahal casino in Atlantic City.
Hard Rock which is operated by the Seminole Indian tribe of Florida acquired the Trump Taj Mahal casino earlier this year for $50 million, which translates into about 4 cents on the dollar. The casino was initially developed for nearly $1 billion by U.S. President Donald Trump and first opened its doors to the public in 1990. Since then the troubled casino has changed hands multiple times.
The casino was last owned by billionaire investor Carl Icahn who sold the casino after failing to resolve differences with the local union over wages and benefits, resulting in a long-drawn strike that led to the casino closing down in October 2016. Speaking to a media outlet, Allen has promised that the Hard Rock group would spend nearly $500 million to completely renovate and upgrade the property. He has also resolved differences with the casino workers' union, promising them a new contract.
NJTV News
Allen confirmed that he had a productive conversation with Bob McDevitt, president of Local 54 of the Unite-HERE union with regards to the contract. In a statement Jim Allen said,
There's going to be no dispute with Local 54. We are going to put people back to work. We'll get it done. We'll do it fair
Additionally Hard Rock is planning on announcing a partnership that will introduce internet gaming in New Jersey.
According to Allen, a major aim of the renovation will be to reinvent the look of the casino, moving it away from its current flamboyant styling involving towers, minarets and loud colors. He said that the property will have the signature Hard Rock look including its well- known logo and guitars, eliminating all the Trump-era embellishments.
Allen has stated that Hard Rock, with its focus on rock 'n' roll, as well as experiences revolving around music and entertainment will bring in new customers to Atlantic City rather than taking away customers from other casinos in the area.
Industry experts agree. Christopher Baldwin, managing director of Nomura Securities said recently that Hard Rock's established reputation in the market would enable it to attract customers interested in experiences other than just gambling. He noted that the added attraction of concerts and other similar offerings is likely to bring in a wide variety of customers.
---
Related Articles
The city council of Elk Grove, Sacramento County, California has tentatively agreed to the development of a casino by a
Steve Wynn has dominated Las Vegas with his mega Casino Empire and lavish casinos all across the world. His ex-wife
Regulators in Florida have refused to approve gaming firm Bestbet's request to install 2,000 slot machines at its Jacksonville facility