Atlantic City Union Closes On New Labor Contract With Casinos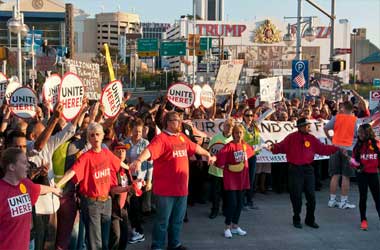 Atlantic City's casino workers' union which has been threatening to go on strike has announced that it reached an agreement with three of the five casinos that it had disputes with. Local 54 of the Unite-HERE union has signed off on new labor contracts with three Caesars Entertainment owned casinos in Bally's, Caesars and Harrah's. The terms of the deal have not yet been revealed but the agreement has been confirmed by both parties.
In a statement, Kevin Ortzman, president of Caesars and Bally's said
We are pleased to have reached an agreement with Local 54 that keeps our employees at work and allows them to continue to deliver the outstanding service and experience that our guests have come to expect. Caesars Entertainment is proud of the investments it has made to contribute to Atlantic City's revitalization and will continue to help drive the city's revival.
Union president Bob McDevitt said that the union and the casino management had negotiated through the night earlier to nail down the terms of the deal. He added that the union's negotiating team has recommended that the agreement be ratified. McDevitt stated that he was glad that Caesars Entertainment had recognized the importance of fair wages and benefits for casino workers in Atlantic City, adding that he hoped that management in Tropicana and Taj Mahal will do the same.
NJTV News
Negotiations with Tropicana and the Trump Taj Mahal which are both owned by billionaire investor Carl Icahn are still underway. Unless a deal is reached soon, the proposed strike will be carried out as per union representatives. The other three remaining casino in the city – Borgata, Resorts and Golden Nugget have not been targeted by the union since discussions are ongoing regarding fresh contracts.
Given the recent revival in the casino industry, the union workers are demanding for a wage rise as well as the restoration of benefits that they had given up a few years ago when the casinos in Atlantic City were facing a significant loss of revenue. With revenues stabilizing this year, the union has said that it is time that casino workers are given fair wages.
The union has been preparing for the strike with trained strike captains assigned to supervise protestors and picketers, and has planned out the routes to be taken during the strike. The concerned casinos have said earlier that they are committed to reaching a fair labor contract before the deadline.
---
Related Articles
Spectrum Gaming Group managing director Michael J. Pollock says that the proposed deal involving the sale of Boyd Gaming's 50
Union workers in Atlantic City have voted authorizing a strike at five casinos in the city unless a new labor
The Australian gambling industry is flourishing as some of the top gambling establishments in the world look to expand their