Hard Rock Confirms Plans To Develop Casino Resort In Vietnam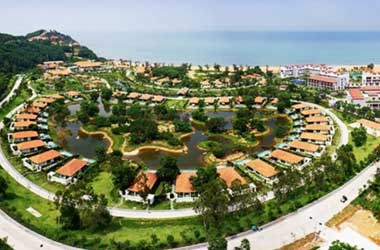 Global casino operator Hard Rock International Inc has confirmed its plans to develop a casino in Vietnam at the beach resort Laguna Lăng Cô located in Thua Thien-Hue province.
A senior casino official from the company has stated that construction on the site will begin once the license is issued by the Vietnamese government.
In a statement Daniel Cheng, Hard Rock's senior vice president for casino business development in Asia said
We have finished all the site studies and completed all project financing. All we are waiting is for the [Vietnam] national government to issue the casino licence and we are ready to put spade on the ground immediately.
He stated that the company had been shortlisted for developing the resort under a 2015 request for concepts (RFC) process. No further details regarding the plan were shared by the official because he said that the RFC was not public.
Spread over 280 hectare, the Laguna Lăng Cô project's first phase will cover the development of a Banyan Tree resort with 57 villas, an Angsana resort having 229 rooms as well as a 18-hole golf course. The beach resort project which opened in 2013 has a capital cost of $875 million.
Gaming Consulting firm Global Market Advisors LLC (GMA) acted as an advisor to the Vietnamese government for identifying a gaming partner for the resort complex.The firm had indicated in 2015 that a number of major international casino operators had expressed interest in the Laguna Lăng Cô site.
According to the Vietnamese news outlet, local government authorities at Thua Thien-Hue recently acquired permission from the central government to up the capital investment threshold for the Laguna Lăng Cô beach resort to $2 billion and permit the development of a casino there.
Under a recently released gaming decree in Vietnam, only projects having $2 billion and above as investment are eligible to participate in a pilot program allowing local residents to enter casinos. So far only two casinos that are under development are being considered for the pilot.
The current proposal available with the government has outlined a capital expenditure of $250 million for the resort which will be rolled out over four successive phases. According to a local media report, the casino project will bring in revenue of $245 million per year to the local government's coffers from 2021 onwards. The proposal has received approval for several key authorities including the Ministry of Culture, Sports and Tourism and the Ministry of Defense.
---
Related Articles
The process of obtaining a casino license in the United States is a long drawn out process that can often
The Trump Taj Mahal applied for bankruptcy in 2014 as the failing casino was unable to come up with a
PokerStars is the biggest online poker website in the world and for a number of years focused primarily on developing