Public Protests Continue Outside Wynn Macau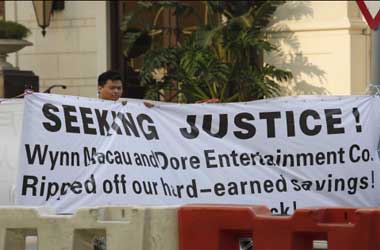 Macau's booming casino industry is taking a hit like never before, with China's anti-corruption campaign continuing to hurt casino operators in the region, and high-roller "junket" financing companies are left in a difficult spot as they struggle with partial debt recoveries from their VIP clientele.
Chinese President Xi Jinping's anti-corruption drive continues to spook rich Mainland gamblers, with initiatives like stricter monitoring of debit cards and the placement of cameras at VIP tables in Macau.
Wynn Macau, one of the biggest casino operators in Macau has witnessed public protests for a number of months as investors gather to express both concern and disappointment over the fact that junket operators are unable to pay them back.
The $258 million casino heist that hit junket company Dore Entertainment in September this year has only added to the gambling industry's woes in Macau. Dore Entertainment which used to operate VIP rooms in Wynn Macau had one of their employees manipulate the process and steal $258 million. Many junket operators in Macau have already shutdown their operations as gaming analysts have predicted that Macau's VIP gambling market is very unlikely to recover or be the same as before.
The junket operators that remain in Macau are finding debt collection a tedious process. In an interview with Bloomberg last month, president of Macau's Association of Gaming & Entertainment Promoters Kwok Chi-Chung admitted junkets are barely being able to collect on 20%-30% of their debts. In a statement, Chi-Chung,
Getting the money back is a bigger challenge now for junkets… With a longer payback period, junkets have less money to lend to new customers, and the business size is shrinking accordingly.
Since junket operators are struggling to recover their debts, they are faced with limited capital reserves and are finding it hard to lend like before to the remaining VIP gamblers who still frequent Macau's casinos. As a result these junket operators are finding it hard to expand their business, bringing in revenue and pay back their investors. Macau's gambling revenue declined for the 18th consecutive month in November 2015 and current gross gaming revenue has declined by 32% when compared to a year-on-year basis.
Wynn Resorts Chairman informed his board in October that nearly half of Macau's VIP business has disappeared and a result the casino was looking at making changes to its existing credit and financial policies, especially the ones that it has with junket operators.
---