Skill Based Games Fail To Make A Mark In Atlantic City Casinos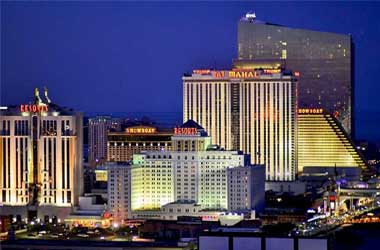 Atlantic City's casino industry has been trying different strategies to revive its business and one of the measures adopted by a number of casinos in Atlantic City was the introduction of skill based games. Leading the way was Caesars which installed a total of 21 machines across Harrah's Resort, Bally's and Caesars Atlantic City in November 2016.
However skill based games have failed to live up to expectations as revealed by the poor performance of the pilot program initiated by Caesars Entertainment Corp. Six months later, none of these skill based machines can be found on the gaming floor.
According to casino officials the machines were removed after they did not generate sufficient revenue to even cover vendor fees.
When it comes to skill based gaming machines, players win depending on the skills they display although the payout structure is similar to that of regular slot machines. Under its pilot program Caesars first installed Danger Arena, a first-person shooter game where a player needs to hit monsters.
Skill based games have been viewed as an important means of attracting millennials to casinos. Gaming revenue has been on the decline as the younger generations are said to prefer video games over traditional gambling formats.
Overall slot revenue at Atlantic City casinos has dropped. In 2015, the total slot revenue was around $1.73 billion. But in 2016, revenue had fallen to $1.71 billion according to official gaming data. Casino operators have therefore been exploring different ways to bring in millennials and one of those initiatives was to introduce skill-based games. The pilot program showed Caesars that one of the reasons for the failure was because the skill-based machines were located along with slot machines, making it difficult for players to identify which were the skill based machines.
In a statement Melissa Price, senior vice president of gaming enterprise for Caesars Entertainment said,
We all understood that we were learning and experimenting. It was a big learning experience for all of us. People have to come find the games in a sea of 1,500 slots.
Despite failing to generate enough revenue, Price noted that nearly 71 percent of play registered at the skill-based gaming machines were from millennials. She pointed out that it was difficult to bring the attention of the customers to the machines since they are similar-looking to regular slots. Price however reaffirmed the casino's interest in skill-based gaming machines.
Blaine Graboyes, co-founder and CEO of GameCo, the company which installed these skill based machines said that GameCo will continue working with Caesars to creating newer versions of skill-based gaming.
---
Related Articles
Amaya Gaming, the parent company of PokerStars which is the biggest poker website in the world recently announced that it
The opening of two integrated casino resorts in Macau's Cotai district has been labelled as the primary reason for an
The Goa government has indicated that locals would soon be barred from entering casinos. Chief Minister Manohar Parrikar, who belongs