Public Campaign Opposing North Jersey Casino Expansion Kicks Off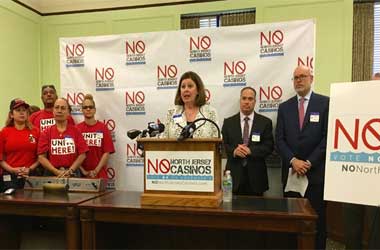 In a fresh attempt to challenge the benefits of extending casinos beyond Atlantic City, a business coalition group has decided to launch a campaign to influence public opinion against the proposal in the upcoming referendum. Named 'No North Jersey Casinos' the group plans to go all-out in terms of campaign spends to match spends by the proponents of the plan.
Those not in favour of developing new casinos in north Jersey maintain that it would result in a significant chunk of business moving away from Atlantic City, thereby affecting the entire community.
In a statement, Debra DiLorenzo, president of the Chamber of Commerce of Southern New Jersey and the coalition's leader said,
If you vote for this, 23,000 to 30,000 families are going to be out of work. How does that help our state? That's a punch to the gut.
NJTV News
Supporters of the plan have said that the North Jersey referendum will bring in more jobs and revenue to the state while protecting it from the competing casinos in nearby states. Additionally, they point out the revenue sharing agreement will allow Atlantic City to receive around $120 million a year which the city could use to help rebuild itself.
A recent report from Fitch Ratings has however pointed out that four more casinos are likely to close down in Atlantic City, should the market suffer a further decline in revenue. Four of the original 12 casinos operational in Atlantic City shut down in 2014 as a result of the collapse in casino revenues.
Similarly a study issued by coalition member Resorts Casino has showed that in addition to casino closures and loss of state revenue, there would be secondary job losses as a result of small businesses losing revenue. Atlantic City Mayor Don Guardian stated that people coming to Atlantic City do not come just for the gambling but also for its spas, nightclubs and restaurants. He said that if half of the current casinos closed, the state would lose over half of the current revenue.
Cory Morowitz, the author of the Resorts Casino study said that the introduction of north Jersey casinos could result in revenue losses of around $1 billion to $1.4 billion for Atlantic City. The revenue last year for the city's casino industry was just $2.56 billion. 
According to results from the latest poll, voters in the state are evenly split on the matter. Supporters of the proposal have already kicked off their campaign and organized their first event last week.
---
Related Articles
Francesco Carbone is a wealthy casino businessman and also part owner of a large chain of casinos in the Caribbean
Due to an increase in junket and VIP demand, the casino industry's gross gaming revenue (GGR) in the Philippines is
Regulators have given New Jersey the green light to conduct online gaming and the online gaming test period has been