Macau's Gaming Revenue In March Drops More Than Predicated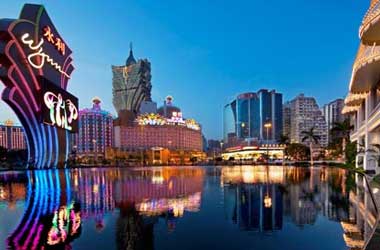 Latest reports from Macau's Gaming Inspection and Coordination Bureau (DICJ) show that the gross gaming revenue for the city declined by 16.3 percent to 18 billion patacas ($2.3 billion) in March 2016. This decline was sharper than anticipated, as analysts had expected a fall of 15.5 percent since the Chinese New Year (CNY) in February has proven in the past to give the casino industry an added boost with an increase in the number of visitors to the city.
However inspite of the long CNY vacation, Macau's casinos have continued to struggled and this drop makes March the twenty second consecutive month of declining revenue. The accumulated gambling revenue for 2016's first quarter was around MOP56.18 billion, which was a 13.3 percent decline over same period last year.
Macau's gaming revenue is yet to recover from the downturn that was triggered after China started a vigorous anti-corruption campaign that resulted in high rollers keeping away from Macau. Reports of a slowdown in China's economy have further dampened the inflow of gamblers from the mainland.
The casinos have responded by shifting their strategy away from VIP gambling towards mass market gamblers and tourists. New casinos being opened by Melco Crown Entertainment Ltd. and Galaxy Entertainment Group Ltd feature a greater number of attractions geared towards families and non-gaming entertainment.
Shares prices of the casino operators have however witnessed an upsurge of almost 16 percent this year. But analysts say that the rise is more due to an attractive valuation rather than their business performance. Macau's six operators saw close to $46 billion being erased from their market value in 2015 after revenue plummeted.
Over the past two years, Macau's gambling stocks have witnessed short rallies at times on news of a recovery in revenue or supporting policies from government. The recent boost in share prices could have been due to the government recently relaxing visa regulations for Chinese migrant workers seeking to visit Hong Kong and Macau. Deutsche Bank AG's analyst Karen Tang said that the new rules are likely to have only a mild impact. She reiterated that that Macau's gross gaming revenue would recover only in the second half of 2017.
Analysts have stated that, overall, the first quarter results are similar to the result of the preceding quarter despite the increased influx during the Lunar New Year holiday period. Trading company Nomura has said that it expects the gambling revenue in the second quarter of 2016 to remain weak as it has no major holidays.
---
Related Articles
The Australian Taxation Office (ATO) recently sent in a notice that requires Crown Resorts to pay $362 million in back
Macau, the biggest gambling hub in the world has been under close surveillance of the Chinese authorities for 12 months
A Connecticut lawmaker is planning to introduce a new bill could result in a delay for the third casino being