Galaxy Macau, Phase 3 Construction To Start In 2017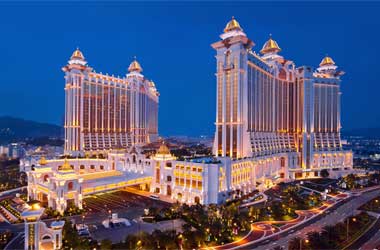 Plans for the third phase of Galaxy Macau, the flagship property of Galaxy Entertainment Group Ltd in the Cotai district has been already submitted according to the company's deputy chairman Francis Lui Yiu Tung. Galaxy Entertainment is one of the six major casino operators in Macau,
Lui stated that the construction of the new phase of the integrated resort is likely begin this year and will be completed by 2019. He made the announcement last week while participating in the annual general meeting of Galaxy Entertainment. The company also revealed results for the first quarter of 2017 at the same time.
Galaxy Entertainment posted revenue of HKD14.1 billion ($1.81 billion) for the quarter, an increase of 5.2 percent over same period previous year. The Adjusted earnings before interest, taxation, depreciation and amortization (EBITDA) jumped by 31 percent on a yearly basis, to reach HKD3.2 billion for the same period. Several market analysts have said that the results were better than expected.
Galaxy Macau
In a statement, Chelsey Tam of investment firm Morningstar Inc said,
The group's strong execution is demonstrated in higher-than market year-over- year mass revenue growth, continuous cost control, and management's strong focus on mass segment despite a surge in the volatile VIP revenue.
Galaxy Entertainment's management team stated in a conference call with analysts that the company was aiming at achieving cost savings of about HKD300 million this year, one-third of which has been already achieved in the first quarter.
Describing the Phase 3 development, Lui said that the project plans include a gaming facility, space for conventions and exhibitions and several attractions. Earlier statements by company officials indicate that much of the floor space in Phase 3 and 4 would be focused on non-gaming facilities. Lui has mentioned earlier that the investment for Phase 3 would be in the region of HKD43 billion.
Analysts at brokerage Daiwa Securities Group Inc noted that the firm is yet to provide information on the proposed capital expenditure for Galaxy Macau Phase 3. They pointed out that Galaxy Entertainment still had HKD1.7 billion in capex related Phase 2 development remaining, and was planning to spend HKD700 million of it through 2017 while the residual HKD1 billion would be spent in 2018.
Lui also expressed optimism regarding the company's chances in landing a casino license in the recently opened market of Japan. He said that Galaxy Entertainment would be working in the market with Monaco-based casino firm SBM for the license.
---
Related Articles
Macau's six major casino operators met with the Judiciary Police and the gaming regulator to discuss security measures in detail
California-based Native America tribe Wilton Rancheria scored a major victory after a federal agency dismissed an appeal lodged by opponents
A three-month extension has been granted to casino operators seeking licenses in Spain's Catalonia region. The three casino operators are