AC Casino Revenue Falls, Online Gambling Revenue Grows In NJ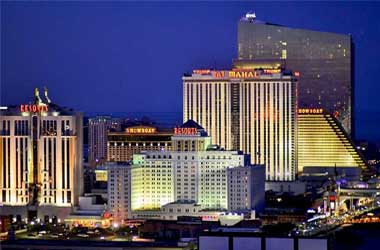 The combined casino revenue in Atlantic City has shown a decline of 2.7 percent for July 2017 when compared to the same period last year.
This was despite the fact that the city's seven operational casinos have recorded a marginal revenue increase according to the latest report released by the New Jersey Division of Gaming Enforcement.
Casinos have seen an increase of 3.9 percent in their gross gaming revenue which includes a jump of 18.5 percent in internet gambling.
Matthew Levinson, chairman of the Casino Control Commission said that the trend was clearly one of growth and that it would continue building in the coming months. He pointed out that there was one less weekend in July 2017 when compared to July 2016.
CBS Philly
The biggest gainer last month was Resorts Casino & Hotel which posted an increase of 14.4 percent to reach $20.4 million. Tropicana follows with a 13 percent revenue increase to hit $37.5 million. Three other casinos namely Caesars, Bally's and Harrah's have all registered modest increases. Casino revenue for Bally's for July 2017 was $22.8 million, up by 5.3 percent over July 2016. Caesars was up 4.8 percent over last year to reach $32.7 million while Harrah's was up 7 percent to reach $36.6 million.
In terms of gambling revenue, the Borgata retained the top spot with $76.3 million but registered a decline over of $80.3 million when compared to its July 2016 revenue. Golden Nugget also recorded a small drop of 2.6 percent in revenue, reaching $20.8 million.
Among the internet gaming-only operations, Caesars Interactive-NJ was down 5.4 percent to reach $3.2 million but Resorts Digital was up by a sharp 22.9 percent to hit $3.8 million. Resorts Digital is a partnership between PokerStars and the brick-and-mortar Resorts Casino & Hotel.
Golden Nugget Atlantic City was on top with $6.25 million in gross revenue and became the first internet gaming operator to cross $125 million in terms of lifetime revenue from just online casino games.
On the whole online gaming revenue for July 2017 was $20.6 million which helped the industry pass the important milestone of $600 million by way of lifetime earnings. July also became the fifth month for New Jersey's online casinos recording monthly gross gaming revenue of over $20 million. Cumulatively, the sector has so far generated tax revenue of $108.1 million since 2013 when online gaming was legalized.
---
Related Articles
The Baha Mar Gaming Resort in the Bahamas finally opened under new ownership in April after years of delays. However
Manchester City have done a poor job defending their title in the Barclays Premier League and made things worse on
The government of Maharashtra is expected to decide on the legalization of casino industry in the state in the next