Paragon Gaming Purchases The Hard Rock Hotel at Lake Tahoe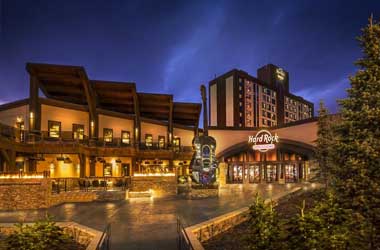 The Hard Rock Hotel & Casino at Lake Tahoe has run into rough seas. Initially, in May 2015 they were being sued by SMC Construction (Reno), as they failed to pay more than $6 million towards construction work. A year later, in 2016 the owners have raked up five lawsuits. The most recent one was filed in October by Tahoe Specialty Flooring & Window Design.
Paragon Gaming, has acquired the management and ownership of the 539-room Hard Rock Café and casino in Lake Tahoe on the 2nd of November, after the being approved and recommended unanimously by state Gaming Control Board. They have acquired the preliminary sanctions from the Nevada Gaming Commission and expect to obtain the final sanction of the licenses by November 17th .
Hard Rock Hotel & Casino Lake Tahoe
Once the Gaming Commission sanctions the licenses, the Paragon Gaming board will acquire the largest share in the property and they plan on converting the loan into a controlling equity interest. This conversion is expected to take place over a period of twelve months after gaining approvals from the Nevada Gaming Commission and the Paragon Gaming board.
The Hard Rock Hotel & Casino's disputes with contractors for non-payment of work performed were promptly settled by Paragon's management. As a result, many jobs were protected. The new management intends to work on the new property along with new prospective partners to create new vacation packages at Lake Tahoe.
Paragon Gaming has successfully managed and developed a number of gaming destinations in Canada and the United States. Recently, they have acquired the Hooters hotel-casino on Tropicana Avenue and the Edgewater Casino in Vancouver, British Columbia. The construction of the Parq Vancouver, a $600 million entertainment resort is also being managed by Paragon Gaming and they are scheduled to open the Parq in fall 2017.
The company is also overseeing construction of the Parq Vancouver which is due to open in the fall of 2017. The Parq and two Marriott-branded hotels will be attached to the BC Place Stadium. This 54,500-seat domed stadium will be the home of the Vancouver Whitecaps, a Major League Soccer franchise and The BC Lions Canadian Football League team.
In August 2016, Paragon Gaming acquired the Whistler Blackcomb ski resort north of Vancouver. They are also exploring a partnership with Vail Resorts Management Co to operate Lake Tahoe's Heavenly ski resort.
---
Related Articles
The Greater Atlantic City Chamber is launching a campaign to persuade its members and local residents to oppose the new
Wynn Resorts chairman and billionaire Steve Wynn and Boston Mayor Marty Walsh have battled it out legally and in the
The main supporters of the 'Our Turn NJ' campaign surprised a lot of people in New Jersey when they decided