Union Workers In Atlantic City Begin Negotiations With Casinos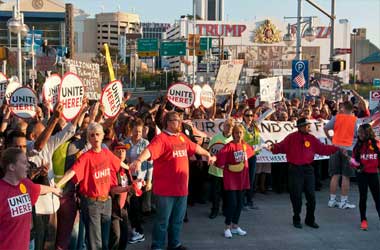 The casino workers' union in Atlantic City UNITE HERE Local 54 is planning to meet five of the casinos during this week in order to arrive at new labour contracts. The five casinos are the Trump Taj Mahal, Tropicana, and three properties owned by Caesars – Harrah's Resort, Caesars and Bally's.
The union authorized a strike against five of the eight casinos operational in the city after holding a vote on the issue last week. Workers argue that they had given up significant financial benefits to support the casinos when they were reeling under heavy losses for the past few years. Now that the casino industry is doing better, they believe it is time the casinos reciprocated and repaid them accordingly. The union workers will go on strike on July 1 unless fresh labour contracts are agreed upon by then.
In a statement, Local 54 said,
Atlantic City casino workers sacrificed a lot when times were tight, for our industry and our community. Things are getting better for the casinos, but workers haven't seen a cent of what we gave back . . . We just want what's fair.
According to local media reports, the union is expected to make substantial demands. The Union is asking for a wage raise of $3 per hour spread over the next five years, paid vacation of minimum one week, and an assurance that existing health benefits would not be amended in anyway.
The Local 54 unit represents around 9,600 casino workers in the city. Around 6,000 of them work on the properties that are being targeted for the strike. The other casinos in the city namely Resorts, Borgata, and Golden Nugget are already in talks with the union and have consequently been given an indefinite extension by the union.
The union maintains that over the past 12 years senior workers have received raises of only $0.80 per hour resulting in the average wage being just $11.17 per hour. It has pointed out that bonuses of around $50 million were paid to casino executives this year as a result of the casino industry doing better but there has been no wage revision for the workers.
According to Ben Begleiter, a union spokesman, if the talks fail and workers go on strike, the losses experienced by the five casinos would be far higher than the cost of the wage hike and restoration of benefits. Casino executives have said that they hope to arrive at a fair labour contract before the strike deadline.
---
Related Articles
Macau's casinos have been informed that a new smoking ban will be implemented during the early part of 2016 and
New Jersey voters overwhelmingly voted against the New Jersey Allowance for Casinos in Two Additional Counties Amendment or Public Question
Stockton University was swift to jump in and purchase the Showboat Casino in Atlantic City back in November 2014 and