Proposed Taunton Casino Gets Confirmed Groundbreaking Date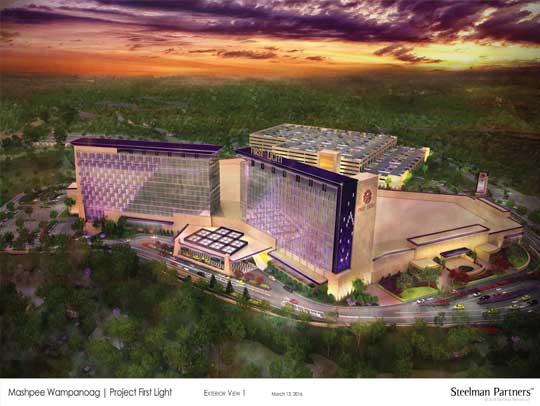 The Mashpee Wampanoag Tribe has announced that the groundbreaking ceremony for its proposed casino project in Taunton will be held on April 5. This is expected to be the first large casino in the Southeastern Massachusetts region.
The new casino will be known as the First Light Resort & Casino and will be spread over 151 acres in an industrial park. It is expected to start construction very shortly as the tribe has plans to open the first phase of the project during the first half of 2017. This would be a year ahead of the openings of competing commercial casino projects in the vicinity such as the Wynn Boston Harbor and MGM Springfield casinos. Both these projects have been delayed due to legal and operational issues.
The tribe has partnered with the Genting Group from Malaysia for the construction of the casino and its operations. In a statement, Kevin C. Jones, president of Genting Massachusetts said
Genting will operate the tribal casino on behalf of the tribe. We will operate the casino while helping to build up the capacity of the tribe to operate it themselves. Our role is to work ourselves out of a job on behalf of the tribe
First Light will offer a full-scale gaming floor featuring 40 poker tables, 3,000 slot machines and 150 gaming tables. The project also intends to have extensive accommodation facilities, with plans for three 15-storey hotel towers that house around 900 VIP suites and guest rooms.
Other amenities like a water park, a luxury spa, retail stores, numerous fine dining restaurants and buffets have been proposed in addition to a 31,000 sq ft ballroom, business and conference rooms. Ample parking space has been planned with place for 3,980 cars to be parked and an additional 738 spaces in a surface parking area.
Although the investment for project had been estimated to be around $500 million, it is now expected to reach $1 billion. A major portion of project is being financed by the Genting Group.
Design renderings for the casino and its site plan have been developed and released earlier this month by Cedric Cromwell, the Mashpee Wampanoag Tribal Council Chairman and Thomas C. Hoye Jr., City of Taunton Mayor. The architect for the project is a Los Angeles based firm called Steelman Partners.
A number of senior executives from the Mashpee Wampanoag tribe and the Genting group along with key Taunton city officials will be present at the April 5 groundbreaking ceremony.
---
Related Articles
A group of lawmakers cutting across party lines are introducing a bill in Japan that will allow the development of
Singapore is clamping down on usage of slot machines in the city's social clubs. The Ministry of Home Affairs has
Spectrum Gaming Group managing director Michael J. Pollock says that the proposed deal involving the sale of Boyd Gaming's 50