PAGCOR Suspends Resorts World Manila's Gaming License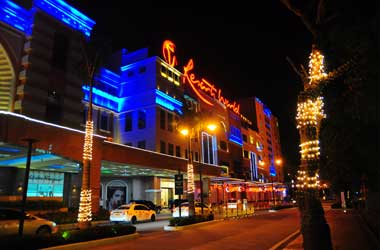 The gaming regulator in the Philippines has ordered Resorts World Manila (RWM) casino to cease operations until the investigation into the attack on it by a lone gunman earlier this month is completed and all security vulnerabilities are addressed.
The attack let to death of around 37 people due to a fire which was started by the gunman.
Resorts World Manila resort is operated by Travellers International Hotel Group Inc, which is a joint venture between the Philippine company Alliance Global Group Inc and Genting Hong Kong Ltd.
The Philippine Amusement and Gaming Corp (PAGCOR) issued a directive earlier this week stating that the casino's license was suspended pending the completion of the investigation and the resort's compliance with security requirements.
AP Archive
The regulator and the police had been under a lot of pressure from legislatures who accused them of failing their duties. No indication was given as to how long the suspension would last.
In a statement PAGCOR said,
The said suspension will remain until Resorts World Manila rectifies its serious security lapses and deficiencies – which caused not only the loss of lives and damaged properties – but also placed the Philippine gaming, tourism and hospitality industries in bad light.
Testifying in a House probe into the attack, Resorts World Chief Operating Officer Stephen Reilly has acknowledged that there were significant security lapses. He stated that after reviewing the CCTV footage it was evident there were several spots on the casino floor that should have been manned were left unprotected enabling the attacker to move around.
However during the same hearing Resorts World Manila President Kingson Sian pointed out that the casino management had been able to initiate the emergency protocols successfully saving thousands of guests.
The attack on the casino complex was carried out by an armed gunman known as Jessie Carlos who stormed into the casino firing shots and later would go on to set fire to gaming tables. Carlos was a gambling addict with heavy gambling losses and tried to steal P113 million worth of casino chips during the attack. Although he didn't shoot anyone, the fire caused death of 37 people due to smoke inhalation.
Resorts World which includes the casino floors and a shopping mall has remained closed since the June 2 attack but hotels in the complex Remington, Marriott and Belmont have remained operational. The only hotel that has closed is the Maxim's which is where the attacker had committed suicide by setting himself to fire.
Travellers International Hotel Group has lost nearly P7.09 billion in market capitalization in the past week. Similarly its parent company, Alliance Global Group, has taken a hit of about P8.6 billion.
---
Related Articles
Investment firm Union Gaming Securities Asia Ltd. has predicted strong growth for the Russia-based casino Tigre de Cristal. Owned by
The online gaming industry has strict regulations both in the United States and Europe but there are still a number
The Rio All-Suite Hotel and Casino will once again play host for the 2015 World Series of Poker as Caesars