NJ Assemblyman Caputo Urges Voters To Support Referendum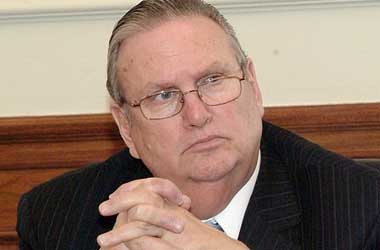 As New Jersey's referendum on casino expansion gathers steam, voters are being bombarded with messages from both sides.
Assembly Tourism, Gaming and the Arts Committee Chair Ralph Caputo recently expressed concern about some of the messages that are asking voters to vote against the expansion program.
He said that outside interests should not influence the voters to go against something that was good for the state and urged voters to reject such messages.
In a statement, Ralph Caputo said
There's no doubt about it. Powerful and well-heeled political, corporate and labor interests outside New Jersey will spend whatever it takes to defeat the Referendum for North Jersey casinos in order to keep billions of dollars of our gaming revenue flowing out of New Jersey and into their pockets.
SNJ Today
Caputo is only state legislator who has had extensive experience in the casino industry as he has spent decades working in Atlantic City's casinos. Caputo said that these interests were levying outlandish accusations and insinuations to sway the voters against their best interests, adding that he found it upsetting.
The referendum campaign has had both camps launching extensive multi-media campaign across TV, print, radio and direct mail ahead of the November 8 ballot. Voters will decide on whether casinos can be opened outside of Atlantic City. According to the proposal, two large casinos will be built in North Jersey, although the actual sites are yet to be finalized. The proposal needs a vote as it would require a constitutional amendment.
Caputo said that the vested interests are spending enormous sums of money urging voters to vote against the proposal but were being protected by tax provisions that allowed them to remain anonymous.
According to Caputo the days of Atlantic City having a monopoly in gambling on the East Coast came to an end long time ago. Today there are casinos and racinos spread across Pennsylvania, New York, Maryland, New England and Delaware. As a result of this proliferation of casinos, people do not have to travel long distances for gambling.
He said that gambling had now become a leisure activity and one of convenience for many players and the State of New Jersey has been losing gambling dollars because people preferred to travel to casinos in other states as they were close to them.
Caputo stated that it was up to New Jersey lawmakers to allow locals easy access to casinos and make things as convenient as possible for them. The Assemblyman said that this would enable New Jersey to keep gambling revenues within the state which could then be used to fund the development of education, transportation infrastructure and property tax relief. Caputo said that this could be accomplished by opening two new North Jersey casinos.
---
Related Articles
Macau's casino industry started its slow recovery from August 2016 after 27 months of decline in its gross gaming revenues
Imperial Pacific International Holdings Ltd, a Hong Kong based company which committed to building the Best Sunshine Casino, a $7
The Chukchansi Gold Resort & Casino was shutdown in October 2014 after internal disputes among tribal members and a raid