New Jersey State Takes Control of Atlantic City Finances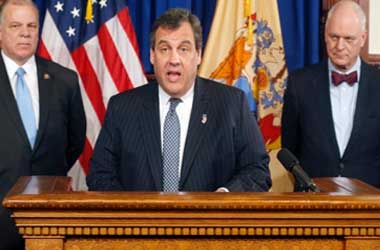 New Jersey Governor Chris Christie has announced a plan which will result in the control of Atlantic City's finances being transferred back to the state in an attempt to provide assistance to the city which is on the brink of bankruptcy.
The plan was announced during a news conference that included Senate President Steve Sweeney and Atlantic City Mayor Don Guardian and Gov. Christie. The Governor who is canvassing for the Republican presidential nomination took a break from his campaign to be present for the announcement.
An assessment by an emergency manager appointed by Gov Christie reported that the city would be left with no money by the spring of 2016. While the Mayor Don Guardian advocated the idea of bankruptcy to gain protection from the city's creditors, to follow through would have been an embarrassment for Gov. Christie and would have certainly affected his standing for the presidential nomination.
NJTV News
The new arrangement grants sweeping powers to the state of New Jersey. The new plan does not result in a complete takeover but allows the state to be in charge of all important operational decisions including dealing with the City's enormous debt of $240 million. The new plan gives the state the power to make decisions and dissolve city departments, consolidate municipal services or privatize them. The state will also be able to streamline the city's civil services and terminate municipal contracts, including those with labor unions.
New Jersey is already in control of the city's budget and hiring decisions and the new plan will also allow the state to city assets if needed.
Mr. Sweeney and Gov Christie did not reveal any further details of the plan, except to state that dramatic steps have to be taken to bring the city's expenses in line with its reduced revenues. The new arrangement is expected to last for five years and will enable the city to rely on the power that the state can enforce and help take tough decisions like reworking contracts with unions and renegotiating debts.
In a statement, Steve Sweeney, Senate President said
It's not Atlantic City's fault, but they're spending three dollars and taking one in. We have to do some things that are very, very dramatic.
Known as the gambling capital of East Coast, Atlantic City's long-standing economic woes intensified after four of its 12 casinos were shut down in 2014 resulting in thousands of redundant employees which further reduced the city's tax base. The situation has reached such dire straits that Standard & Poor's Rating Service has rated the city's debt to CCC–, cutting it four levels to a rating given to borrowers that are vulnerable to non-payment.
---
Related Articles
Gaming industry experts are expecting skill-oriented electronic gaming machines to be popular in Japan's soon to regulated casino market. These
The Swedish online gaming provider, NetEnt has announced that it has been approved by the New Jersey Division of Gaming
Florida real estate developer Glenn Straub, the new owner of Atlantic City's former Revel casino now renamed TEN Atlantic City