Massive Renovation Planned For Las Vegas Casino Palace Station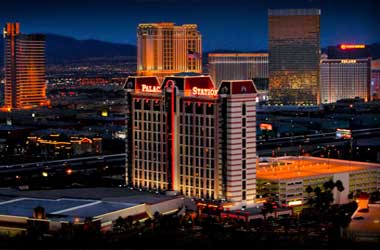 A massive makeover is being planned for Palace Station casino in Las Vegas which is owned by Red Rock Resorts Inc, formerly known as Station Casinos. The casino which is located outside the Las Vegas Strip is mostly popular with local residents rather than tourists.
The proposed expansion includes a new hotel tower, a new casino floor, a new bingo hall, new restaurant and bars among other entertainment facilities like theatres and pools.
These developments will be broken down into different phases and will be completed over the course of the next few years.
The new 27 storey hotel tower will have 606 rooms and will come up in place of the current courtyard rooms. The new tower will feature coloured glass and metal panels and will rise beyond the current tower and face the Las Vegas Strip. On top of this 335-foot tower, the plan is to build a restaurant and a lounge spread over 5,000 feet as well as an outdoor terrace of over 1,800 square feet. These will provide spectacular views of the Strip, similar to what Red Rock's 'The Palm' casino provides.
KTNV Channel 13 Las Vegas
This tower is the last phase of the upgrade plan. The first is the addition of a new bingo hall of around 9,000 square feet near the casino floor. The Palace station was actually known initially as the Bingo Palace. A large casino floor is also to be developed near the courtyard side of the complex, which would cover almost 34,000 square feet. It will include a buffet spread over around 14,000 square foot and two new restaurants spanning 11,000 square feet.
The existing Feast Buffet located currently on the top floor would be replaced by entertainment facilities which include a boutique movie theatre with five screens and a bowling alley. The movie theatre will have a rooftop terrace and bar attached. The two new restaurants being introduced will include a noodle bar and a lounge. A steakhouse and the existing popular Oyster Bar will also be shifted to this location adjoining the casino. Other facilities proposed are a new convention space as well as a pool built with cabanas and a bar. Looking for the online casinos? Why not read our exclusive list of the Best Online Casinos in the United States.
The casino management has already held a public meeting with residents from the local community to discuss the proposed changes. It has also started the process of getting approvals from the administration of the city of Las Vegas. The biggest challenge facing the proposed plan is over parking spaces. Red Rock Resorts is yet to commit on project timelines for the different phases of the expansion plan.
---
Related Articles
Macau's booming casino industry is taking a hit like never before, with China's anti-corruption campaign continuing to hurt casino operators
A recent forum on the proposed referendum in New Jersey discussing the establishment of two new casinos outside of Atlantic
Hong Kong-based Imperial Pacific International Holdings Ltd had declared in its filing to the Honk Kong stock exchange that gaming