Kidnapped Gamblers Rescued From Gambling Mafia In Cambodia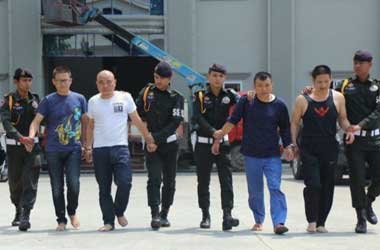 Four Chinese citizens were arrested in the Cambodian capital city of Phnom Penh on charges of kidnapping and extorting from three gamblers who were also Chinese citizens. The three gamblers were kidnapped as they had failed to pay their gambling debts.
Cambodia's military police announced the arrests earlier this week, stating that after one escaped successfully, the three alleged kidnappers had tried to turn in two of the gamblers but found themselves arrested. Those arrested are Ding Chunyaun, a casino owner, Zhang Janwen, Hao Boshi and Zhang Xiaofei. All of them are from China and are currently living in Cambodia.
In a statement the National Military Police said,
After a thorough investigation, Phnom Penh municipal military police found that Ding Chunyaun was the ringleader with three other associates. They are a mafia group that has kidnapped Chinese and other foreigners in Cambodia.
The four accused have also been charged with illegally detaining and withholding the passports of Zhun Xiao Liang and Zhan Qian Qiang. The third gambler who escaped was Liu Junshen. They had been imprisoned for a period of over two months.
These gamblers had owed $1.22 million in total to a casino operating in the border town of Poipet City. The three victims had lost heavily while playing at the casino in December but continued to play after borrowing from Chunyaun. They lost again but were unable to repay the money they had borrowed. Liang owed $770,000 while Junshen was in debt for $300,00 and Qiang for $150,000.
Chunyaun is reported to have ordered the kidnapping of the three gamblers early this year in order to recover the money. On Feb 28, the three imprisoned men made an attempt to escape to Phnom Penh in order get help from the Chinese Embassy but only Junshen succeeded.
Qiang was said to be guarding the remaining two, who were held in cages in a rented apartment close to the casino. The military police said that the alleged kidnappers had sent text messages and photographs to Liang's wife in China in an attempt to extort money. It is not known if the extortion attempt was successful. There is also no clarity on why the kidnappers chose to turn in the remaining two prisoners to the police.
The four arrested have been presented to the Phnom Penh Municipal Court, where they are being questioned by the prosecutor. The offences can bring a sentence of five to 10 years in jail for each under Cambodian law.
---
Related Articles
Atlantic City's casino industry has been under threat for the last 18 months as casinos have reported a significant drop
The sharp divergence between the projected casino gross gaming revenue (GGR) in Macau and the actual GGR recorded for January
Romania's decision to extend the ban on smoking to cover all public indoor places has caused an alarm to the