Seminole Casino Opens New Luxury Hotel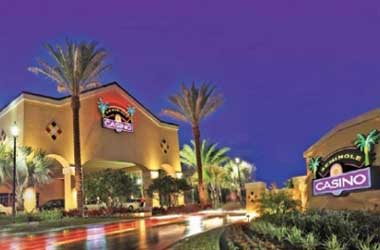 The Seminole Casino in Immokalee is an extremely popular destination for gamblers and those looking to have a fun time in Southwest Florida. The casino is opened 24/7 and offers gamblers a number of live table games, slot machine and a list of entertainment activities such as live bands, magic shows and stand up comedy.
The Seminole Tribe wanted to create luxury accommodation for both gamblers and overnight visitors who prefer to stay on the premises rather than travel back to their own accommodation. The Tribe recently announced that it had successfully completed the construction of a 80 room and 19 suite Seminole Casino Hotel. The new hotel cost the tribe millions of dollars in construction fees and interiors.
The hotel has a number of interesting amenities such as the Lucky Mi Noodle House restaurant and the Seminole Center ballroom. Tribal officials recently opened the hotel to the public and are in the process of rolling out a number of exciting deals for the new hotel.
Based on information published on seminoleimmokaleecasino.com, the tariff on a standard is close to $340 inclusive of taxes. The room comes with free Wi-Fi, a Keurig coffee maker and guests have the option of choosing either a queen size or king size bed. The suites are a lot more expensive and tariff for a one bedroom suite runs up to $1,000 inclusive of taxes. The one bedroom suite has a 55 inch HDTV and walk-in shower and tub.
The construction of the Seminole Casino Hotel provided contractual jobs for a number of construction workers benefiting the locals of Southwest Florida. The casino has also hired close to 1,000 employees to manage casino and hotel operations and tribal officials were happy to give back to the Immokalee people.
In a statement, Jim Allen, CEO of Seminole Gaming said
We employ about 1,000 in this (casino and hotel) alone. More than 35,000 work for the Seminole tribe and all of its affiliate businesses. The Seminole Casino in Immokalee has done extremely well in the last 5 years and has had to double its size to take care of business and customer requirements. The casino offers gamblers a special high limit room that has 73 slot machines, 10 blackjack tables and 2 small baccarat tables. The minimum bets at these tables are $50 and slot bets ranges start from $5 and go up to $100
---