First Open-air Casino To Open In French City Of La Ciotat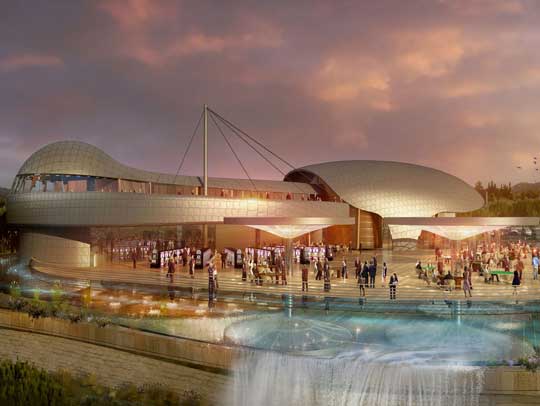 The worlds' first open-air casino is expected to launch in the city of La Ciotat in France next year.
Built by Partouche, the outdoor casino seeks to regain revenues lost by the ban of smoking indoors and will be pioneering a new concept in the gambling industry.
Partouche, France's largest casino group is building the casino in La Ciotat for around €10 million. La Ciotat is located around 34 kms from Mareille and an equal distance from Toulon.
The company intends to transfer its existing licence at Casino Flots Bleus to La Ciotat which has already been approved.
Conceived as an overturned boat hull, the casino's terrace will offer several tables and slot machines for its players to enjoy. The casino has been designed by the architectural firm, Marc Fercy.
In a statement, Fabrice Paire, President Partouche Corporate Executive Board said,
We will have two casinos, one inside and outside. At present, there is nothing comparable to this. With so many outdoor machines, La Ciotat marks a world first.
The outdoor arena will have large canvas umbrellas to provide shade or protection from rain, and glass walls with a protective lining of hedges of prickly plants will provide security. Ensconced here, players will be able to enjoy views of the bay but far more importantly, they will be able to smoke while playing. The new casino will be open to the public in the middle of 2017 if everything goes as per plan.
Paire believes that the smoking ban in 2008 is one of the main reasons for the drop in customers during the last seven years. This smoking ban has seriously impacted the casino industry and caused a 25 per cent decline in Partouche's casinos clients during the last seven years. He observed that few casinos abroad that possess games outdoors have significantly outperformed those with just indoor games.
Gaming revenues for French casinos as a whole and those owned by Partouche have been falling. Last year was no different, with the French casino industry declining by 2.6 percent and Partouche's French casinos declined by 2.1 percent, bringing in revenues of €514.5 million. Partouche hopes that the new casino will increase gaming revenues by 20 percent when compared to the existing site in Flots Bleus.
As the casino industry recovers globally, France is looking at expanding casino operations beyond its holiday resorts and try out new concepts to improve gross gaming revenues. Many cities are open to the gambling industry as they known that they will benefit from the creation of jobs and gaming taxes.
In a major policy change, Marseille has decided to allow casinos inside its city limits. Jean-Claude Gaudin, the mayor of Marseille recently announced a public tender for the issuance of a casino operator licence. Cash-strapped cities are looking at casinos to provide much-needed tax revenues as estimates say that a new casino could generate 500 jobs and add 10 million euros per year to a city's public finances.
---
Related Articles
NagaCorp, which operates Cambodia's largest and most successful casino NagaWorld has said that it will be launching a third phase
The city of Las Vegas will now be eligible to receive $2.9 million as security funding from the federal government.
The Global Poker Index (GPI) will host the European Poker Awards (EPA) on the 25th of March at the Hilton