Vegas Casinos Introduce New Video Game-Style Betting Game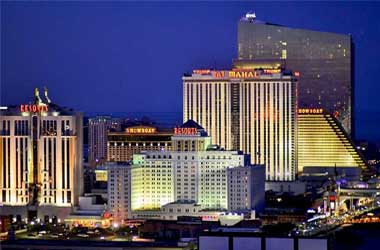 Three Atlantic City casinos announced that they are trialling a first-person shooter game called 'Danger Arena' that mimics video games. This is yet another attempt by casinos in Atlantic City to come up with new and innovative gaming offerings that target a new customer demographic.
During the last decade, Atlantic City casinos have been seeing a sharp decline in the interest of the younger generation who are not very keen on traditional gambling. Millennials have displayed lesser inclination to spend on gambling, preferring other avenues such as restaurants, bars and concerts for entertainment. Casinos have therefore been seeking new gaming formats that can capture their interest.
Developed by gaming company GameCo, Danger Arena is shooter game where a player hits robots on-screen from either a seated or standing position, with the player betting in the range of 50 cents to $20 on his performance. The player requires seven hits to break-even and a strike of over 10 robots can yield a maximum of 25 times the bet amount.
GameCo
The game is being introduced in October in Caesars Entertainment's three facilities – Harrah's, Caesars and Bally's. GameCo still needs to get final approval from the New Jersey Division of Gaming Enforcement. The company's co-founder, Blaine Graboyes has said that similar approval processes are underway in other states like Nevada, Connecticut and Pennsylvania .
David Rebuck, the director for New Jersey's Division of Gaming Enforcement's said that the game was under review. In a statement, Rebuck said ,
The division has been actively encouraging the industry to submit innovative products, and we are glad to have the opportunity to review GameCo's skill-based game through our New Jersey First program.

That program allows products that are submitted to our technical services lab before any other jurisdiction and that meet our high regulatory standards to get out onto the casino floor expeditiously.
Danger Arena offers 10,000 different video on-screen maps with varying levels of difficulty which will be presented at random to the player instead of the ascending order of difficulty which is typical of video games. This new format will cause Danger Arena to be more in line with the randomness present in games like blackjack.
Winning a power up feature enables players to receive instant cash prizes and in-game prizes such as a shield. A player can win upto a maximum of $5,500 in one game – $5,000 in form of instant cash and $500 received on a $25 bet for successfully hitting 10 robots.
Kevin Ortzman, the president of Caesars Entertainment welcomed the new game, hoping it would be of interest both current customers as well as the next generation. Graboyes believes that the game is mostly likely to attract millennials but added that there were enough customers in their 40s or 50s who might enjoy it.
---
Related Articles
Casinos are not legal in Northern Ireland but the current government have been in discussions on amending that law and
Singapore is clamping down on usage of slot machines in the city's social clubs. The Ministry of Home Affairs has
Sheldon Adelson, Chairman of casino giant Las Vegas Sands Corporation has said that mass market segment is driving a revival