Steve Wynn & Marty Walsh Finally Agree On Everett Casino Deal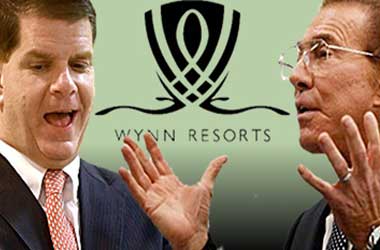 Wynn Resorts chairman and billionaire Steve Wynn and Boston Mayor Marty Walsh have battled it out legally and in the media for well over a year but finally managed to put their differences aside and reach a mutual agreement over the proposed $1.7 billion Everett casino resort. Last week we learnt that local based Suffolk Construction Co had been chosen to construct the new casino.
The city of Boston and Mayor Walsh had opposed the Everett casino and alleged earlier that the Everett casino received special exceptions from the state gaming legislatures, a claim that was dismissed by the court. Wynn Everett also secured a critical environmental permit which put Mayor Walsh on the backfoot but Walsh remained adamant stating that he would not stop fighting against the Everett casino as he was fighting for the people of Boston.
Steve Wynn had publically stated that Mayor Walsh was an unreasonable man and someone he could never negotiate with. Many believed that the on-going Walsh-Wynn feud was not just about that Everett casino but also a clash of egos. During the last couple of months, there have been meetings between Mayor Walsh's team and senior executives of Wynn Resorts at undisclosed locations and it appears those meetings have borne fruit.
Mayor Walsh decided to end his campaign against the Everett proposal after an agreement was made on a few key points. Some of those points include the city of Boston receiving a sum total of $368 million during the next 15 years and an additional $1 million to help the city pay the huge legal fees it incurred while battling Wynn Resorts in court.
Some of the other clauses that Wynn Resorts accepted included investing $25 million in Sullivan Square infrastructure improvements during the next 10 years, $11 million to ensure there is no traffic congestion in Charlestown, $250,000 to create a regional working group that will work on a long term solution for Sullivan Square and an agreement made in good faith to buy over $20 million worth of goods and services from businesses based out of Boston.
Mayor Walsh was happy with these arrangements and agreed to drop all opposition stating that in the end it wasn't about who won the battle but making sure that the city of Boston remained protected at all times.
In a statement, Steve Wynn said
Subject to approval by the Massachusetts Gaming Commission, our agreement with Boston will unlock economic development and jobs for the entire region
---
Related Articles
An investigation will be initiated by Philippine Amusement & Gaming Corp. (PAGCOR), one of the gaming regulators in the Philippines
The Australian Taxation Office (ATO) recently sent in a notice that requires Crown Resorts to pay $362 million in back
Hong Kong casino tycoon and billionaire Tony Fung wants everything to be in order before he gives his team the