SKYCITY Considering Potential Sale Of Darwin Casino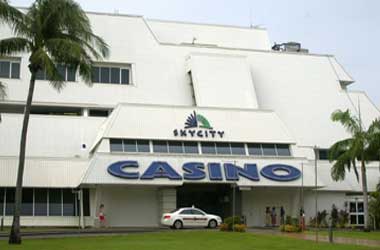 SkyCity Entertainment Group, the hotel and casino operator based in New Zealand may have to consider selling their gaming arm at their Darwin hotel and casino resort as part of an attempt to recoup their gambling business.
The gambling arm of the resort has been struggling for a while.
According to the New Zealand's National Business Review, the casino operator may also be looking for a partner to develop its under-performing assets.
The SkyCity Darwin hotel and casino resort complex is situated in Darwin City, Northern Territory, Australia, and features a five-star hotel, a casino with gaming machines and tables, and a variety of entertainment and accommodation choices.
SKYCITYDarwin
The sprawling property was purchased by New Zealand's largest casino operator, SkyCity Entertainment Group in 2014 from the MGM Resorts for A$195 million.
SkyCity witnessed an unexpected fall in gaming revenue from the Darwin casino after their acquisition. The resort and casino operator felt that the rise in pokie machines in clubs and pubs surrounding the resort may be one of the main reasons for the casino's failure to perform. It is quite possible that due to the easy access to pokie machines in the surrounding areas, the Darwin casino might be suffering.
There are reports that since 2015, the number of gamblers playing pokie machines has risen considerably due to the regulatory gaming modifications in the Northern Territory. SkyCity decided to appoint Graeme Stephens as the chief executive officer in November 2016 and one of his key responsibilities was to address the increase in the number of pokie machines and its impact on the Darwin casino. Stephens started his role in May 2017 and some of the options that the company is considering a potential sale of the gaming business in Darwin and teaming up with a business partner for development. SkyCity owns underdeveloped land within the Darwin resort and could use this in collaboration with a business partner for future development.
In a statement, Mr. Stephens, CEO said,
SkyCity won't entertain further development of Darwin on its own so we are conducting a strategic review of our options to create shareholder value.
He went on to say that while a sale of the non-performing asset was always an option, the company had not come to any decision.
News of the possible sale of SkyCity's gambling arm of the business emerged after publication of the casino operator's reports for the financial year 2017. SkyCity Entertainment Group owns several other properties in Adelaide, Australia; Hamilton and Queenstown, New Zealand
---
Related Articles
Hong Kong casino tycoon and billionaire Tony Fung wants everything to be in order before he gives his team the
The Las Vegas strip has proven to be the downfall of many an entrepreneur as the competition and pressure is
BetConstruct, an iGaming solutions provider has signed a partnership deal with BetSoft Gaming to publish a variety of BetSoft titles