Russia's Sochi Gambling Zone Opens Its First Casino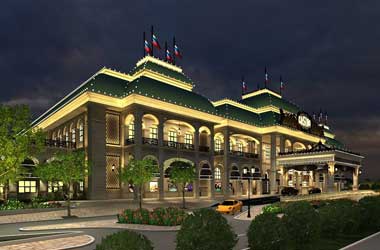 According to local media reports, the first casino in the Russian city of Sochi opened its doors officially to the public on Jan 5. The casino is known as the Sochi Casino and Resort and is operated by Domain LLC.
The company released a statement stating that Sochi Casino and Resort was the first entertainment complex to open near the mountain resort of Gorky Gorod. The casino resort is located in Krasnaya Polyana, a designated gambling zone
The $65.55 billion complex features a casino, a cabaret theatre as well as dining and shopping facilities. The operator stated that this was a unique project showcasing the theme of Las Vegas casinos in Russia.
The company expects the facility to attract up to 40,000 visitors per year.
Ruptly TV
After shuttering all gaming properties in 2009, Russia introduced a new gaming policy under which it identified four zones that would act as hosts for casinos in the country: Primorye near the Pacific port of Vladivostok, Altai in Siberia, Kaliningrad, a Russian enclave on the Baltic Sea coast and Azov City in the Krasnodar region. Krasnaya Polyana is a 165,000 square meter gaming zone situated on the Russian Black Sea coast. Domain is the first company to receive a permit from the government to construct a gaming facility there.
Additional gaming zones were included after a 2014 law: one in Sochi which had hosted the 2014 Winter Olympics and another in the Crimea which had been annexed from Ukraine by Russia. In 2015, the Russian government announced that it was shutting down the gaming zone in Azov City by 2019.
The aim is supposedly to develop Sochi as a top gaming destination in its place. Infrastructure built for the 2014 Winter Games in Sochi is seen to be a major factor for this decision as it could support tourism growth, along with the fact Sochi will be a host for the 2018 FIFA World Cup and Russian Formula 1 Grand Prix. The development of gaming industry in Sochi is expected to help counter seasonality in the region's tourist season.
In a statement Evgeniy Kudelya head of Russia's Federal Tourism Agency, said,
Tourism traffic increased significantly during the last several years and the demand for holidays in Russia and particularly in Sochi is very high. Such assets [casinos] will make a major contribution to solution of one more problem, the off-season problem.
The new property will be the only one operating in the zone for now since reportedly no other companies have expressed an interest in setting up casinos in Sochi.
---
Related Articles
Caesars Entertainment Corp recently announced that it has appointed a retired bankruptcy judge to restructure the company even as the
Florida real estate developer Glenn Straub, the new owner of Atlantic City's former Revel casino now renamed TEN Atlantic City
The state gaming commission in New York made it clear in 2013 that something needed to be done quickly to