NagaWorld Casino Expected to See Slowdown in Growth in 2016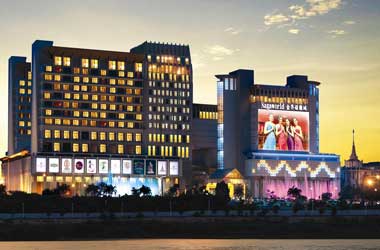 Nagacorp Ltd, the parent company of the NagaWorld casino and hotel complex in Phnom Penh has posted a strong growth in the first quarter of 2016, continuing its strong financial performance from 2015. According to Citi Research analysts, NagaWorld's growth is expected to continue for the rest of the year but most likely at a slower rate.
The gross gaming revenue (GGR) for NagaCorp was $153.8 million for the quarter ending January 2016, which was an increase of 35 per cent year-on-year. The growth has been credited to strong performance in both the mass market and VIP segments. Citi Research analysts expect a similar trend of strong growth for NagaWorld in 2016 as it is the only casino present in Phnom Penh.
The latest financial results reveal that the casino's VIP winnings were up by 65 per cent year-on-year in the first quarter of 2016. Junkets from Macau have been responsible for driving the casino's VIP growth and are likely to continue doing throughout this year. However Citi analysts are predicting a decline in the pace of the VIP market segment. Analysts have projected a growth of 15 percent in the VIP GGR in 2016 vis-a-vis the 27 percent growth witnessed in 2015.
According to Lorien Pilling, director of Global Betting and Gaming Consultants (GBGC), NagaCorp has significantly benefited from junket operators diverting Chinese customers to NagaWorld from Macau casinos.
In June 2015, a subsidiary of Jimei International Entertainment Group Ltd, one of Macau's leading junket operators signed a one-year deal with NagaCorp to handle up to seven VIP tables at its casino resort, joining a list of other junket operators which includes the SunCity Group.
NagaCorp recently decided to reduce the incentives for junket operators in order to increase its profit margins in the VIP segment. Pilling said that this was because the margins in VIP segment are low but the cost of servicing it is relatively high, making it necessary for casinos to balance them.
NagaCorp's financial records for 2015 confirm this claim. Almost 70 percent of the company's cost of sales was spent in covering costs related to its five biggest junket operators. These junket contributed to around a third to NagaCorp's total sales.
According to Citi analysts, the mass market GGR growth for the company will also slow down, from the 18 percent seen last year to 12 percent. They attribute it to a decline in visitations to the casino. NagaWorld has around 1,656 electronic gaming machines (EGMs) and 287 gaming tables and has had great success in attracting gamblers from Macau and Mainland China.
---
Related Articles
The state of New York approved licenses for three New York casinos and will most likely approve a few more
Steve Wynn, the chairman and chief executive of Wynn Resorts and Wynn Macau Ltd has said that his company wasn't
Four Chinese citizens were arrested in the Cambodian capital city of Phnom Penh on charges of kidnapping and extorting from