Industrialist Paul Fireman Unveils Casino Plan For Jersey City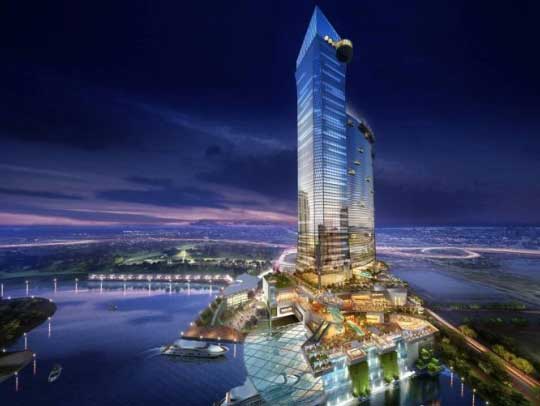 Come November, New Jersey citizens will be voting on the referendum that will decide the fate of the much-debated casino expansion program. For voters in Jersey City in particular, the referendum has a lot of implications as it is one of the projected sites for a new casino.
Paul Fireman the erstwhile head of sportswear giant Reebok International recently launched a new campaign called Our Turn NJ that urges New Jersey residents to vote in support of the referendum.
As a part of the campaign he released details on his plan to build a casino near Liberty State Park in Jersey City.
Our Turn NJ
Although not a native to Jersey City, Fireman is the owner of the upscale Liberty National Golf Club which played host to VIPs like former president Bill Clinton. He plans to build a $3 billion resort called Liberty Rising which will feature a hotel, a spa and restaurants, as well as a casino floor with 500 tables and close to 6,000 slots.
Calling his proposed two-storied project an icon and a beacon of energy for the city, Fireman said that it would revive the area. He estimates that it will result in up to 9,000 construction jobs and 6,000 casino jobs. The casino will contribute to $65 million as taxes and fees in the first year alone and over $3.9 billion during the next thirty years. He pointed out that the revenue will allow the state to fund programs for the city's disadvantaged population.
Bill Cortese, spokesman for Trenton's Bad Bet, the anti-casino expansion group has said that Fireman's statements are not reality, and highlighted the traffic issues that will be triggered by the casino's development. Fireman has dismissed worries about the casino's impact on the city's transportation infrastructure saying that visitors would use ferries or the New Jersey Turnpike to reach the casino.
Jersey City Mayor Steve Fulop does not believe the tax revenue is worth the trouble. Fulop was earlier in support of the casino program but turned skeptical after a visit to Atlantic City earlier this year.
In a statement, Fulop said
That's a big dollar amount but it doesn't necessarily offset some of the concerns with regard to challenges that it brings, whether it's crime or prostitution or traffic. I need to get to a place of understanding where casinos have been a benefit to any municipality that's been a host. It's hard to find one
According to Fireman, the property will not result in increased prostitution or vagrancy since the casino will be situated inside a gated property.
---
Related Articles
Macau's gambling industry has suffered ever since the anti-corruption campaign was launched by Beijing. The scrutiny of the authorities into
MGM Springfield has been under a lot of pressure from the Massachusetts government after it submitted an amended proposal that
In a fresh attempt to challenge the benefits of extending casinos beyond Atlantic City, a business coalition group has decided