Hainan Airlines Launches Non Stop Beijing to Las Vegas Flights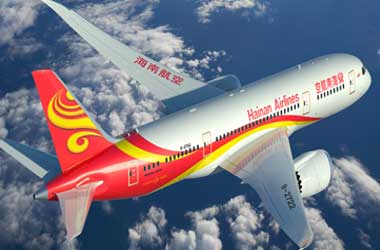 Chinese airline Hainan recently announced that it has launched nonstop flights on the Beijing – Las Vegas route for the first time. Hainan is China's biggest private airlines and is placed fourth in terms of fleet size.
Joel Chusid, executive director of Hainan's operations for United States said that the excitement on the launch was more than he had ever witnessed before In a statement, Joel Chusid said
I've been dealing with opening airport routes for years, American Airlines for 25 years and Hainan for almost 10, and cities are excited when we come in, but I have never seen the red carpet rolled out as it has in Las Vegas.
Chusid said that he assumed that the enthusiastic reception was due to the fact that the Nevada tourism officials have been trying for decades to get nonstop flights between Las Vegas and Beijing. The U.S. Department of Transportation approved the route last week, which permitted the airlines to start selling tickets.
Hainan Airlines
Hainan Airlines is yet to start advertising for these flights which will commence from December but people are already expressing interest in purchasing tickets which are expected to start at around $600 as the inaugural fare for a round trip. Hainan is collaborating with the Las Vegas Convention and Visitors Authority to promote and launch events in Beijing and Las Vegas. Local tour operators and retailers are gearing up for the influx of Chinese tourists but the advertising is expected to focus on only non-gaming attractions.
Chusid said that although general expectation is to focus on Las Vegas' casinos and gaming facilities, there were many other attractions in Las Vegas that could be promoted in Beijing apart from gambling. He stated that while Chinese tourists went to Macau only for gambling, they have a number of other reasons to visit Vegas such as musical and theatre shows, national and entertainment parks. Chusid stated that it was better if the marketing promotions in Beijing did not include any form of gambling including slot machines as Beijing has taken a very strict stance on the gambling industry since 2014.
Hainan has welcomed the opening of the route which will see three flights operate on a weekly basis. The company has already asked for more flights between the two cities. But officials have said that this was not possible since a cap exists due to the bilateral agreements between China and the U.S. More flights to not just Las Vegas but also other cities like Boston are not possible until the agreements are changed, which is not likely to take place any time soon.
---
Related Articles
Investment firm Union Gaming Securities Asia Ltd. has predicted strong growth for the Russia-based casino Tigre de Cristal. Owned by
Brokerage firm Morgan Stanley has forecasted an optimistic outlook for the Philippine casino market despite the development of additional convention
The Online betting operator, the Fulltilt has announced that it will now be offering games from NetEntertainment. The NetEnt signed