Atlantic City Casino Profits Up During First Half of 2016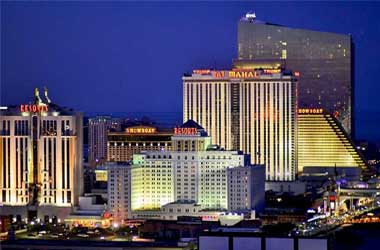 Atlantic City's casino industry is seeing a revival as the latest results show an improving bottom line.
According to data released by the New Jersey Division of Gaming Enforcement for the first half of 2016, profit for the industry has risen by over 20 percent.
The total revenue has however remained largely flat, with $1.68 billion recorded in the first half of 2016 as compared to $1.66 billion for the same period in 2015.
In a statement, Matthew Levinson, the chairman of the Casino Control Commission said,
Slowly but surely, casino profits are increasing as operators in Atlantic City work to rebuild their business. The $259 million in profits for the six months is the highest since 2010. Profits were up at six of the casinos — and by double digits at four of them. For the first time in eight years, every casino reported positive operating income.
The casino industry in Atlantic City has witnessed a dramatic decline in revenue during the last 10 years. Four out of the twelve casinos in the City closed in 2014 due to losses and now that Carl Icahn has confirmed that he will be shutting down the iconic Trump Taj Mahal casino, Atlantic City will be soon left with just seven casinos.
The Borgata's revenue contributed for over a third of the combined industry's total profits making it the highest earning casino. The casino's gross operating profits rose by 26.7 percent reaching $106.1 million. In July, the eight casinos saw an increase of 6.9 percent when compared to the same period last year reaching $275.2 million. The Borgata Hotel Casino & Spa had a record-breaking month in its 13-year history clocking revenue of $84.7 million in July, a growth of 12.5 percent compared to the same period last year.
Joe Lupo, senior vice president of operations at Borgata said that the numerous investments done in the property to improve the facilities including launching of the Premier nightclub, the Borgata Beer Garden and the Outdoor Pool, along with the Marketplace Eatery had helped generate non-gaming revenue.
The positive change in Atlantic City's casino industry comes at a time when a state wide referendum is being put to vote later this year to see if voters want to move casinos out of Atlantic City and open two new casinos in North Jersey.
---
Related Articles
A massive makeover is being planned for Palace Station casino in Las Vegas which is owned by Red Rock Resorts
Brokerage firm Citigroup Global Markets Inc has said that if the draft decree by the Vietnamese government retains its restrictions
A recently released report has shown that there is no significant increase in crime after Massachusetts's first casino, Plainridge Park