Genting Wins Approval For New Miami Hotel Over Bus Terminal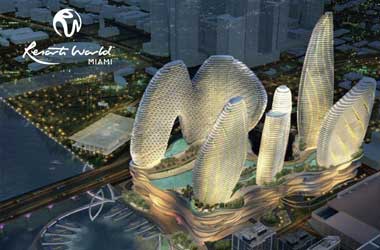 Casino operator Genting's subsidiary, Resorts World Miami recently announced that it has won government approval to lease a prominent state-owned site in Miami for 90 years, which might result in a hotel being developed there.
Genting's latest proposal is a transit project that involves a total revamp of the Omni bus terminal in Miami-Dade as well as nearby areas. A previous proposal from Genting to build a full scale casino in the Omni district failed to secure necessary support, resulting in it being put on hold.
In the current proposal, Getting will build a large tower on a one-acre plot that will encompass the new hotel as well as a renovated bus terminal.
Neighboring Metromover station will also receive a facelift under the plan. The county commission's transportation committee approved the $22 million plan calling it a win-win plan for the county. According to Miami-Dade Mayor Carlos Gimenez, the project would yield nearly $55 million by way of rent and revenue-sharing over the lifetime of the lease.
In a statement Miami-Dade County Commissioner Sally Heyman said,
I don't think as a commissioner it gets better than a situation like this where we have a commitment and the partnership is there.
There are currently tentative plans to develop a 300-room hotel on the site, but the agreement with the city allows Genting to change it to a residential project or any other use depending on market conditions. It is however not known how this proposal will fit into Genting's plan for a casino in the area.
Genting has been fighting a long battle to gain approval to build a casino on the 14 acre land it bought in 2011 for $236 million, which included the Omni mall-hotel and the former Miami Herald property. Florida legislature refused to approve Genting's request for a casino license transfer because it was across county lines.
Subsequently, Genting proposed to replace the casino with hotels but didn't move ahead with the plan. It is currently pursuing a plan to develop a 50-berth yacht marina along the waterfront. The current deal will however result in Genting gaining control of a significant portion of real-estate frontage across key streets in the Omni area. The bus terminal site is located across the proposed casino site.
Gimenez said that the latest Genting Group project is likely to generate 1,871 construction jobs and its hotel would result in around 171 permanent jobs. The proposal is awaiting approval from the Miami-Dade County Board Of County Commissioners which will happen when it meets again in April.
---
Related Articles
Legislative committees in New Jersey have approved the bill to hold a referendum to allow two new casinos in northern
Gaming industry experts are expecting skill-oriented electronic gaming machines to be popular in Japan's soon to regulated casino market. These
Laos Holdings, the parent company of Sanum Investments, the former owner of the Savan Vegas Hotel in Savannakhet, Laos continues