Forbes List Adelson & Wynn Among Greatest Business Minds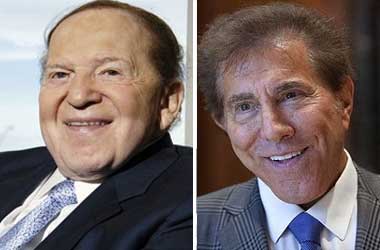 Forbes celebrated its 100th anniversary on September 19 by releasing a special edition featuring the 'World's 100 Greatest Living Business Minds' and included insights, stories, tips and strategies that will be useful for the next 100 years.
There were a number of iconic names included amongst the top 100 business minds.
Some of them included President Donald Trump, Oprah Winfrey, Sir Richard Branson, Bill Gates, Warren Buffet, Paul McCartney and Mark Zuckerberg.
Also featured on the list were casino tycoons Sheldon Adelson and Steve Wynn. The 84 year old Adelson is the chairman of the Las Vegas Sands Corp – the biggest casino company in terms of revenue while 75 year old Steve Wynn is the chairman of Wynn Resorts – a company that has built iconic casino resorts in Las Vegas and Macau. Both these gaming tycoons also featured on the 2017 Forbes list of billionaires which was published earlier this year.
Las Vegas Sands Corp owns some of the most well known casinos in the world including the Palazzo Las Vegas, the Venetian Las Vegas, Marina Bay Sands in Singapore, Parisian Macau and Sands Macau. Some of the properties owned by Wynn Resorts include Wynn Las Vegas, Encore at Wynn Las Vegas, Wynn Palace in Cotai and the newly opened Wynn National Harbor casino in Everett, Massachusetts
Adelson and Wynn shared insights into how they built their gaming empire and some of the strategies that they continue to use in day to day operations that has helped to establish their respective companies as the best in the business.
In a statement, Adelson said
When I was 16, I bought a bunch of vending machines. At the time, they were set up inside factories, which meant people only bought snacks during the 40-hour workweek. So I moved the machines into gas stations, where cab drivers were lining up 24 hours a day, seven days a week. Money came rolling in.
Adelson said he took the same business model and implemented it when he built casinos in Las Vegas and it turned out to be hugely successful. Since China had over a billion people, he realized it would be great business sense to build something similar to the Las Vegas Strip and that's what the Sands Corp ended up doing in Macau.
Wynn states that one of the reasons why his casino resorts have been successful is because they have continuously focused on building self-esteem amongst their employees and that has paid off in outstanding customer service.
---
Related Articles
One of Japan's biggest hotel chains, Hotel Okura is planning to open a hotel in Resorts World Manila in 2018.
The Philippine's government has been highly successful in attracting foreign companies to invest into its casino industry and during the
The state of Massachusetts decided to award its first ever Casino license to the Las Vegas based gambling corporation MGM.