Ex-New Jersey Casino Workers Find Jobs In Atlantic City Call Center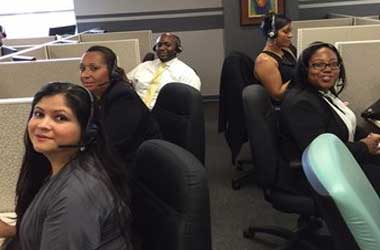 The decline of Atlantic City's casino industry during the last 22 months has caused four out of the twelve casinos to shutdown leaving thousands of casino employees without work. The remaining casinos did not close shop but were also in bad shape and were not looking to hire any staff.
This market slump forced thousands of Atlantic City casino workers to make a decision to move out of state and continue in their line of work or opt for a new career and make preparations to study and find a new job. The Best Sunshine casino in the Saipan Islands was one casino who targeted Atlantic City's ex-casino employees in an effort to recruit trained employees and offered a number of benefits to get them to re-locate.
Ex-casino employees who were single or had no family in New Jersey were a lot more comfortable packing up and moving out of state but casino employees who were at home in the garden state were not willing to leave their home. Many of these casino employees who decided to stay back in the garden state were finally forced to make a decision and look for a new line of work as the gambling market in New Jersey does not likely to recover in the near future.
A call center in Atlantic City recently decided to recruit some of these ex-casino employees to perform the role of a telemarketer. The call center believes that the skills and experience obtained in Atlantic City casinos would have taught these employees how to hustle and provide a high level of customer service. A number of ex-casino employees have already been through the interview process and will start work once the call center goes live.
The call center is expected to open its new offices during the first week of November and will be located at the new offices that have opened out in the parking garage of the Claridge Hotel. The company expects a total of 330 telemarketers to be on board before the end of 2016 and hopes to hire around 1,000 employees before the end of 2018.
One of those ex-casino employees hired is 33 year old Julie Santana who once worked at the ex-Revel casino. Santana said she and a couple of other colleagues who were selected were very happy to finally get a job as they were job hunting for a long period of time. She was also happy with the pay package in the new call center and looked forward to a new career.
---