Atlantic City Union Vote To Go Through With Strike At Five Casinos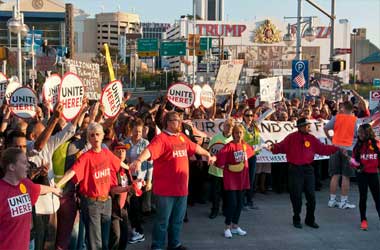 Union workers in Atlantic City have voted authorizing a strike at five casinos in the city unless a new labor contract is finalized by July 1. Bob McDevitt, the president of Unite Here Local 54 made the announcement stating that thousands of casinos workers voted to go on strike if the July 1 deadline is not met. The vote was held at Boardwalk Hall and resulted in a resounding majority of 96 percent voting in support for the union action.
The five casinos were the union has threatened to strike include Caesars, Bally's, the Tropicana and Harrah's Resort. The union represents about 6,000 workers who work at the five properties. The fifth property is the Trump Taj Mahal Casino Resort where a strike has already been authorized over similar issues.
Unite Here Local 54 represents around 9,600 casino workers who are employed by the remaining eight casinos currently operational in Atlantic City. The Union has been holding multiple rounds of discussions with casino officials at Caesar's Entertainment and Tropicana but has not been able to reach a mutual agreement so far.
NJTV News
David Dorfman, a cook at Harrah's for over two decades and committee member of Harrah's workers has said that there is no middle ground predicting a bleak outlook for reconciliation. Unionised workers had surrendered vacation and other benefits during contract negotiations in 2011. They are now demanding the restoration of these benefits along with a wage raise. According to the union, many employees have seen only an 80 cent raise over the past 12 years. Dorfman believes that a 50-cent raise per year for the next five years is a good starting point.
Elaine Malloy a longtime cocktail server at Bally's pointed out that the workers had given up their benefits at that time because the casinos had needed it, but it was now time to give it back. In a statement Stephen Cohen, Caesar's spokesman said
Our goal remains to negotiate a fair resolution to keep our employees at work and to continue supporting Atlantic City's revitalization, which has our full support.
Tony Rodio, president of Tropicana Entertainment has said that workers at Tropicana had benefitted from increased hours, job security and increased gratuities, while thousands lost their jobs due to closures. The last time the union went on strike was in 2004 resulting in about 10,000 workers belonging to seven casinos walking out of their jobs for about a month. The union labor contracts expired in September 2014 and many have been extended temporarily.
The union leadership is also up for a possible change with an election slated for June 24 between McDevitt and Al Tabei, a bartender at Bally's for over two decades.
---
Related Articles
The Borgata Hotel Casino & Spa in Atlantic City and poker hall of famer Phil Ivey have been involved in
Macau's casinos have been informed that a new smoking ban will be implemented during the early part of 2016 and
The Prime Minister of Bahamas Perry Christie has announced that the $3.5 billion troubled Baha Mar casino resort will open