Home
>
Casino Blog
>
Asian Gamblers are Flocking to Australia……….and Here is Why!
Asian Gamblers are Flocking to Australia……….and Here is Why!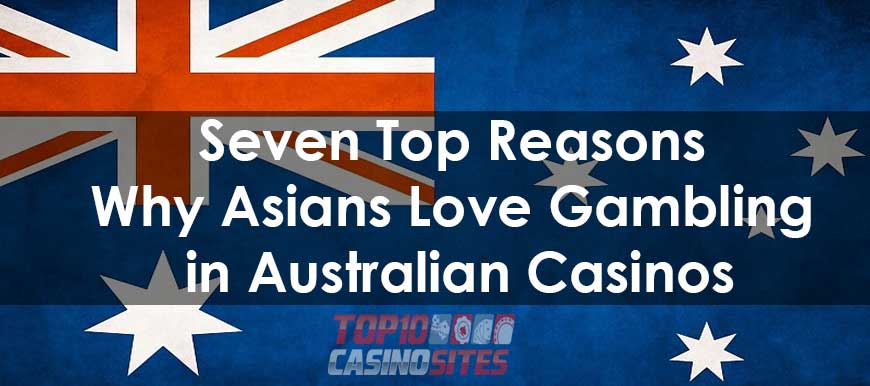 During the last couple of years, Australia has witnessed an increase in the number of Asian gamblers to its casinos.
Gamblers from Asia, especially Mainland China are known to be big spenders and are considered valuable assets for Australian casinos as they help to increase their bottom line.
The increase in Asian gamblers travelling to Australian casinos is due to a number of reasons. We take a look at the top seven reasons as to why gamblers from Asia are flocking to Australia.
WatchMojo.com
Tourism 2020 Initiative: The Australian government has put together a special initiative known as Tourism 2020 which looks to significantly increase the number of tourists visiting Australia. One of the main markets that the Australian tourism department is targeting is the Asian market and the campaign is paying dividends as more tourists from Asia arrive on Australian shores. A number of these Asian tourists end up spending both time and money at casinos in Australia during their vacation down under.

Collapse of Macau's VIP market: Macau, the biggest gambling hub in the world once made five times the revenue as that of Las Vegas's casino industry. However since early 2014, Macau's casino industry has witnessed a significant decline due to the anti-corruption crackdown launched by Beijing.

The crackdown targeted Macau's casinos and its VIP gamblers who contributed over 50 percent of overall gross gaming revenues. Macau has witnessed 26 consecutive months of gross gaming revenue decline as VIP customers have now decided to travel overseas in search of casinos that are friendlier towards them.

Australia is one of the countries that a lot of VIP gamblers from Macau have chosen to travel to.

Gaming Friendly Regulations: Australia's casino industry has continued to do well over the years as the country is considered gaming friendly thanks to its liberal regulations. Crown Resorts, one of the biggest gambling companies in Australia rolled out the red carpet earlier this year and invited high roller Paul Phua to its Crown Melbourne facility.

Phua who was born in Malaysia has been linked to the underworld and has been accused of running an illegal sports betting operation. However Crown Resorts had no second thoughts in flying Phua over to the Crown Melbourne as

Australian casinos want as many high rollers as possible to be paying top dollar at the casino. While the authorities in Macau pay special attention to the funds that high rollers spend at the casino, Australian casinos don't pay anywhere as much attention to the source of these funds.

Increase of Disposable Income amongst Asian gamblers: While the global economy has gone through a shaking over the last decade, Asian countries have managed to keep their economies strong. There is a strong middle class in most Asian countries that have seen a significant increase in their disposable income and as a result, they are happy to spend the additional funds on luxury vacations and often try to increase their money by playing at the casinos.

Variety Of Non-Gaming Opportunities: A majority of Asian gamblers travelling to Australia tend to club their family vacation along with their casino exploits. Australia is a great place to visit as it has a lot to offer in terms of non-gaming opportunities.

Many gamblers arrange a tour package that allows their family to go and visit some of the famous spots across the country, while they do some serious gambling. The Great Ocean Road in Melbourne, Sydney Opera house, the Great Barrier Reef and the Outback are some of the most popular tourist attractions across Australia.

Attractive Gaming Packages: Australian casinos realize that if they are to successfully and consistently attract mass market and VIP gamblers from Asia, then they need to specifically cater to this market segment. All VIP Asian gamblers are looking for luxury accommodation, VIP gaming tables, easy access to large sums of cash and entertainment options once they finish playing at the casinos. Casino companies such as Star Entertainment and Crown Resorts are investing significant amounts of money to upgrade their facilities and develop specific packages for the Asian market segment. Some of these initiatives include hiring table dealers who speak at least one Asian language and hiring staff who have been exposed to the Macau style of gaming.
Aggressive Marketing Strategies: Australian casinos are competing with a number of different players who all want a part of the lucrative Asian market. Casinos in Cambodia, South Korea, Vietnam and the Philippines are looking to take advantage of the Macau casino industry collapse as they look to woo VIP gamblers from Mainland China across the border.
Casinos in Las Vegas as well as the Best Sunshine Live casino in the Saipan Islands, in the CNMI are also targeting the Asian market. A number of Australian casinos are now working with junket operators in Asia, who act as middle-men and specialize in bringing over VIP gamblers from Asia in exchange for a commission.
---
Related Articles
The global online casino industry has continued to expand at a rapid pace due to a number of reasons. Online
The online gambling industry has faced a lot of flak due to the fact that there are a number of
Most online gambling enthusiasts aren't only in the fray to make truck loads of money. It's pretty sure that Bugsy