Wynn Palace To Perform Well Despite Reduced Gaming Tables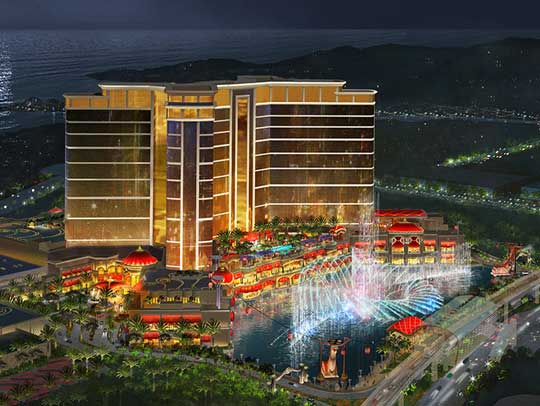 Steve Wynn, the chairman and chief executive of Wynn Resorts and Wynn Macau Ltd has said that his company wasn't too bothered that the Macau government granted their US$4.2 billion Wynn Palace integrated casino resort in the Cotai district a reduced amount of gaming tables.
The Macao Special Administrative Region Government (MSAR) authorized just S150 new gaming tables for Wynn Palace. The casino will have 100 of them available at its opening next week while the remaining 50 tables will be made available over the next two years. This is lower than what was approved for rival casino groups such as Melco Crown Entertainment Ltd and Galaxy Entertainment Group, both of whom received approval for 250 tables. Galaxy opened its Galaxy Phase II in May 2015 while Melco Crown opened Studio City in October 2015.
Wynn Palace
In a statement Wynn said
The focus should not be on the amount of tables but the amount of people that are here. When you have less [gaming] equipment than more equipment, you tend to have higher utilization. I expect we would be fine. We'll find out what that is after the opening
Around 50 to 60 of the 150 tables will be allotted to VIP gaming according to Steve Wynn. He said that the company had had not applied for 400 tables as it needed only 280 tables. With 150 allotted, there was a deficit of 130 tables. The company has however received approval to shift 250 gaming tables from its Wynn Macau property located on the main Peninsula to its new property. Together with the 100 new tables, Wynn Palace will have 350 tables for its opening.
Wynn clarified that the gap in allotment was due to the government cap. The local administration approves new-to- market gaming tables on the principle of compound annual growth rate in new tables being less than three per cent over a ten-year period starting 2013.
Non-gaming revenue for the company is expected to rise sharply after the opening of the Wynn Palace. Wynn said that the increase in restaurants, rooms and retail facilities would result in higher revenue. Wynn Palace offers 1,706 new rooms, 2,440 sq. m space for holding events, and other entertainment features like SkyCab, the cable car service and the Performance Lake.
The MSAR Government has asked casino operators to diversify and increase the proportion of non-gaming revenues but Wynn said that rather than just shopping or theme parts unique services like specialized medicine clinics could be an attracting feature for Macau. Wynn confirmed that phase two for the project would be built but the timing would be decided later.
---
Related Articles
Macau's casino industries have lost more than $100 billion during the last 18 months but that has not stopped gambling
Government officials in Macau believe that the city's economy will soon experience a surge in growth based on the improving
Most online casinos take steps to protect and safeguard their websites from hackers and malware as a breach in security