Taj Mahal Casino Not Happy Having Stockton College As Its Neighbour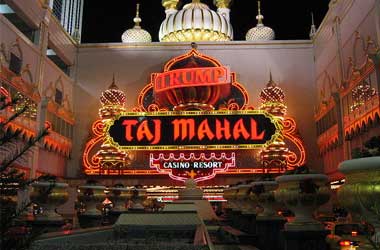 The iconic Taj Mahal casino applied for bankruptcy in 2014 and was expected to shut down operations in 2015 and become yet another casualty in Atlantic City's struggling casino industry. However, billionaire Carl Icahn stepped in and decided to bail out the troubled casino by immediately providing them with a $20 million loan. The Taj Mahal has a number of challenges that it needs to overcome in the next 12 months to ensure that it reduces its debt and starts showing signs of a turn around.
Hence it's no surprise that the Taj Mahal casino has strongly objected to the opening of a college near its premises as the casino is concerned that minors will try to gain access to the casino and try to play the tables.
The property in question is the Showboat casino which is owned by Caesars Entertainment. The Showboat casino was forced to shut down operations in August 2014 after failing to make profits. The property was purchased by Stockton University in December 2014 and plans were made to turn it into a satellite campus and use a portion of the property to run a hotel that was open to the general public.
However back in 1988 a covenant agreement was made between Trump, Resorts and Caesars that stated the Showboat casino will always be run as a first-class casino resort. Based on this covenant agreement, Trump Management has strongly objected to the opening of a college on the Showboat premises stating that Stockton must get its approval before proceeding with any plan.
A representative from Trump Entertainment, the parent company of the Trump Taj Mahal said
Having kids under 21 who will attempt to gain entry to the casino and engage in activities reserved for those only 21 and older would create numerous problems we do not want, and could damage the Taj's ability to attract customers and regain its financial health. You do not see a college on the Las Vegas strip. Both Caesars and Stockton elected to proceed with the Showboat sale even though they were fully aware that we could not waive the casino/hotel covenant as they were asking.
Trump Entertainment confirmed that back in December it received a request from Caesars to voluntarily lift its covenant rights and permit Stockton to run a college campus from the Showboat premises. However, Trump Entertainment informed Caesars that it was not willing to allow a college campus to be constructed. Herman Saatkamp, the president of Stockton University was gutted with Trump Entertainment's decision but remained hopeful that a compromise could still be made.
---