Stockton University Confirms Offers For Former Showboat Casino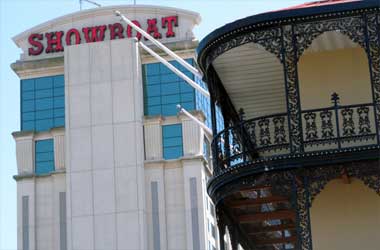 When Stockton University purchased the former Showboat casino in Atlantic City, the university planned to turn the property into another campus and had big plans of expanding its presence in Atlantic City. Stockton University took a chance when it purchased the property because there was a clause that stated that the Showboat casino could be sold but the property must be used to run another casino.
Trump Entertainment Resorts was one of the parties that had signed this clause into the contract and was not willing to waive the clause for Stockton University to set up a new campus.
Trump Resorts cited the fact that it did not want to encourage a college campus near its casino as they did not want underage gamblers trying to gain access into the casino. In the end, Stockton University had no legal way to proceed and turn the ex-Showboat casino into a University and has been looking to get rid of the property.
Florida developer Glenn Straub who bought the Revel casino in Atlantic City had earlier made a big to purchase the Showboat casino from Stockton University but the deal did not work out and Straub filed a case against Stockton to prevent the University from selling it to another buyer. The courts recently ruled in favour of Stockton University and the acting president of the University Harvey Kesselman is eager to sell the property as its costing the Uni up to $400,000 a month to maintain the property.
Stockton recently confirmed that it had received a number of interesting bids for the ex-Showboat casino and that the board members would hold an emergency meeting to discuss the various proposals and make a final decision. In a statement, Harvey Kesselman said that
senior leadership could discuss the various terms and offers being proposed and evaluate which would be in the best interest of Stockton. We look forward to bringing this to a conclusion in the near future.
The University did not disclose any information with regards to prospective buyers or the amount that they were offering for the property. Whoever decides to buy the property, will have a tough road ahead as they will need to launch a new casino in Atlantic City's struggling gambling industry. Stockton University will be happy if they can recover the money they have spent so far in buying and maintaining the casino.
---