Shuttered Baha Mar Casino Resort Likely To Open In 2017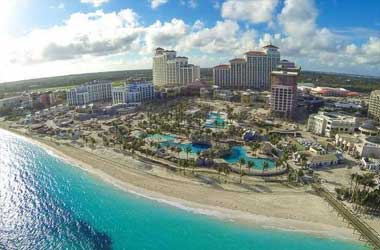 The Prime Minister of Bahamas Perry Christie has announced that the $3.5 billion troubled Baha Mar casino resort will open in the second quarter of 2017.
Speaking at a Bahamas Hotel Association event, Christie said that Hong Kong-based company Chow Tai Fook Enterprises (CTFE), the prospective buyer of the property is expected to launch a phased-out opening of Baha Mar casino resort which will commence in April 2017.
At that point, around 700 of the total 1,800 hotel rooms will be opened for business.
Chow Tai Fook Enterprises is planning to invest $200 million in pre-opening programs as well as to complete final touches to the property. Construction for the property was close to completion when the original developers filed for bankruptcy in June 2015. Christie stated that in the new year, CTFE would be hiring 1,500 employees and 4,300 workers would be hired by Dec 2017 by which time the casino would be fully operational.
Baha Mar
CTFE submitted a plan to the Bahamian government last month which detailed their plans for the launch of the casino resort as well as a shortlist of casino operators being evaluated to take over the operations of the resort when it opens.
A team of government officials recently went to Hong Kong to understand the CTFE model of operations. The delegation comprised of Attorney General Allyson Maynard-Gibson, Tourism Minister Obie Wilchcombe, and four members from the Bahamas Gaming Board. They will also be visiting Macau where CTFE has operations.
In a statement, Wilchcombe said
We're going to take a look at the model of their operation and how it fits in ours. This is the largest single floor casino in the Caribbean so you have to be sure of what they intend to do, what games they intend to place on the floor, where the emphasis will be, which markets they will be catering to, whether low scale, upscale, how they are going to phase development.
Wilchcombe also clarified regarding concerns that CTFE involvement in Macau casino company SJM Holdings made it inappropriate for it to operate in the Bahamas. He dismissed the allegations adding that a full due diligence would be done on CTFE wherein the Board will reach out to chairmen of various casino operators. This due diligence process is expected to take at least three weeks.
The status of the resort's proposed sale to CTFE is still unknown with Wilchcombe only stating that the government was pleased with pace of the progress made.
---
Related Articles
Gun Lake Casino, a tribal casino in the state of Michigan has made payments to the tune of $1.82 million
Australian based casino operator Crown Resorts had grand plans to enter the Las Vegas market with the launch of its
Entrepreneurs believe that in order to be successful you must ride the wave and use the momentum to break new