Philly Developer Decides To Buy Former Showboat Casino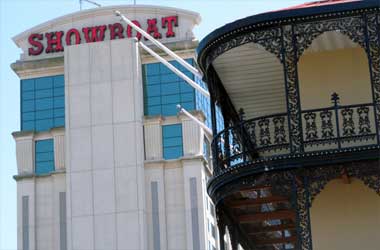 Stockton University recently announced that it had worked out a deal with Philadelphia developer Bart Blatstein to sell the Showboat casino for $22 million.
The University has already approved the deal and the handover will most likely take place in November 2015.
Stockton had purchased the Showboat casino from Caesars Entertainment back in December 2014 for $18 million and since then has spent a lot of money on maintenance costs.
As mentioned in NJ The University purchased the former Showboat casino in Atlantic City with the idea of turning it into a college campus and expanding its university. The University was quick to take ownership of the casino even though there was a clause highlighting the fact that the Showboat casino had an agreement with the Trump Taj Mahal stating that the casino property must be used for gambling purposes only.
When Stockton completed its purchase of the Showboat casino and announced that it was going to turn into a college campus, the Taj Mahal management objected as they did not want underage gamblers from the university venturing into the casino and as a result
The Trump Taj Mahal firmly stated that it would use the contractual clause in court and as a result Stockton University knew that it had to scrap its plans of building a new college campus. The University realized it had made a poor purchase and wanted to get rid of the property immediately. The University tried to work out a deal with Florida real estate developer Glenn Straub who also purchased the former Revel Casino in Atlantic City. The deal with Straub and the University did not work out and Stockton has been trying to find a new buyer since then.
Stockton University confirmed that it had received quite a few proposals in the last month and finally decided to go with Bart Blatstein's proposal. In a statement, Stockton President Harvey Kesselman said :
"We were seeking a purchaser who demonstrated a commitment to Atlantic City when others were unwilling. Bart Blatstein is such an individual. The agreement allows the university and Mr. Blatstein to continue working together in ways that will benefit Stockton and contribute to Atlantic City's renaissance."
Bart Blatstein did not confirm what he plans to do with the former Showboat casino but did say that Atlantic City's gambling industry is struggling and it would not make a lot of sense to launch another casino as it would be similar to seeing the same movie over and over again.
---