Philadelphia Planning Commission Approves South Philly Casino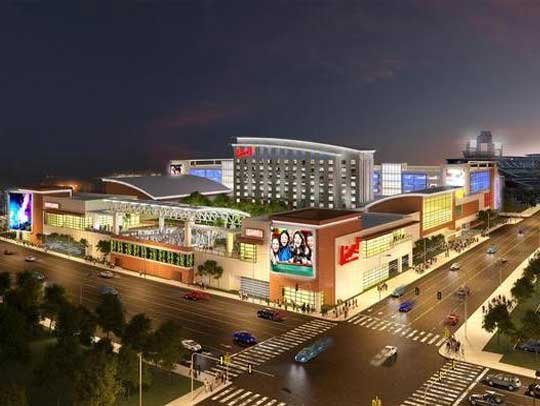 Philadelphia has had just once casino since 2010 which is the SugarHouse Casino located close to the Fishtown neighbourhood near Delaware Avenue.
The Cordish Group of Companies and Greenwood Racing, Inc decided to form a partnership and proposed to open second casino in South Philadelphia.
A proposal was submitted to the Philadelphia Planning Commission outlining plans to construct a casino along the popular Packer avenue which is located next to the sports complexes that are used by major league teams in Philadelphia.
The casino is expected to be constructed over 2 million square feet and is estimated to bring in around 8.5 million visitors each year and generate around $400 million in financial benefits during its construction phase.
The Philadelphia Planning Commission reviewed the proposal and decided to grant a license to Cordish Companies and Greenwood Racing. Close to $400 million will be invested into setting up the casino which will have a huge casino floor, luxury hotel rooms, hundreds of classic table games and thousands of popular slot machine games. While an official name is yet to be given for the new casino, there have been reports that it might be known as the Live! Hotel and Casino.
Cordish Companies and Greenwood Racing were happy to have their casino proposal approved. In a statement, Tony Ricci, chief executive officer of Greenwood Racing, Inc said
The size and scope of the project will only serve to enhance the Philadelphia gaming and tourism market, while providing substantial benefit to the local community.
The Philadelphia Planning Commission decided to approve the project after reviewing and confirming that the proposal fulfilled all the necessary legal requirements. The US casino is expected to create thousands of construction jobs which will be filled by the locals and an additional 2,000 full time jobs once the casino is open to the public. Employment opportunities will be available in finance, human resources, operations and hospitality and locals will be given first preference.
The proposed 19 storey hotel, 125 table games, 2,000 slot machines, modern spa, high-end restaurants and 3,000 parking lots need to get the approval of the Pennsylvania Gaming Control Board. The construction of the casino could be delayed as there are a few groups objecting to the zoning regulations and the Philadelphia City Council will have to conduct a detailed review before approval final zoning permits. There has been no official communicating confirming the duration of the project and a possible live date.
---