New York Casino School Will Open Its Doors In 2015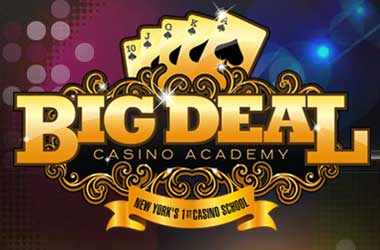 Entrepreneurs believe that in order to be successful you must ride the wave and use the momentum to break new ground in business. Entrepreneurs who miss the wave have to play catch up and it's a lot harder to gain momentum when you miss the initial opportunity.
This seems to be the philosophy behind New York's new Casino school that is scheduled to open during Jan 2015. The school will become New York's first licensed casino-dealer school and is currently pending approval from New York's Education Department. Founded by Wendy Rubin, the school will operate from the 6th floor on East 28th Street building off Fifth Avenue.
Wendy decided to open The Big Deal Casino Academy because she believes that the casino industry in New York will provide thousands of jobs to New Yorker's in the coming years and she wants to educate and equip individuals who are interested in working at a casino. The school will operate out of a 2,000 square foot hall that will have 3 poker tables, 8 blackjack tables along with baccarat, craps and roulette tables.
Like most business ventures, the Big Deal Casino Academy is a high risk project because New York only announced the approval of 3 live casinos in December 2014. These casinos will provide thousands of jobs to New Yorkers but it will most likely be towards the end of 2016 or even 2017. This could result in the Big Deal Casino Academy having a couple of slow years at the start and cash flow could turn out to be a problem.
However, Wendy believes that individuals interested in becoming casino supervisors and certified dealers will want a head start by educating themselves and gaining relevant experience so that they will be well prepared when New York's casinos start hiring. The casino's curriculum will focus on teaching individuals how to run poker, craps, blackjack, roulette and baccarat tables.
The curriculum will also specifically train individuals on how to identify and catch a thief. The casino industry has seen a number of sophisticated scams, frauds and cheats over the last couple of years and it has become essential for dealers to be able to discern when a scam is being carried out. The Big Deal Casino Academy will release more information via its website regarding the duration and price of each course.
---