Manchester City's Samir Nasri Asked To Leave London Casino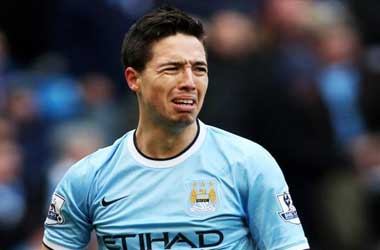 Manchester City have done a poor job defending their title in the Barclays Premier League and made things worse on the 12th of April when they lost 4-2 to Manchester United and faced the wrath of both the fans as well as the owners who are expected to sack a number of players who have failed to perform.
One of those players is Frenchman Samir Nasri who has failed to live up to his reputation and has had a rather disappointing season. Nasri has been in the news for all the wrong reasons as he was recently reported to have been thrown out of London's Park Lane Casino after having an altercation with one of the casino's well known patrons.
Nasri along with his former Arsenal team-mate Marouane Chamakh decided to visit London's Park Lane Casino and see if they could find more luck at a casino table than what they had found on the field. The pair spent some time at the tables and then wandered over to a private table where Nasri decided to place a few bets of his own. Reports suggest that Nasri placed a lot of money on a roulette game that was in progress and in doing so accidentally brushed the hand of a female player just as she was about to throw.
This move annoyed the female player and when the ball landed on red she was furious with Nasri for unsettling her and causing her to lose. She did not recognize Nasri and shouted at him saying
It is because of you I lost. Leave my establishment, I'm one of the biggest gamblers in the casino.
Security immediately rushed to the spot and calmed things down before asking Nasri and Chamakh to leave the casino immediately. However, there are conflicting reports of the story with some players saying that Nasri did not notice that it was a private table and that the woman overacted and blamed Nasri for losing although it was no fault of his. There was no police complaint filed and the casino confirmed that this matter was now closed.
After being forced out of the casino, the Manchester City star might very well be forced out of the team as Man City owners have confirmed they want to get rid of Samir Nasri and Yaya Toure.
---