Macau's Casinos Facing Revenue Loss & Market Decline in 2016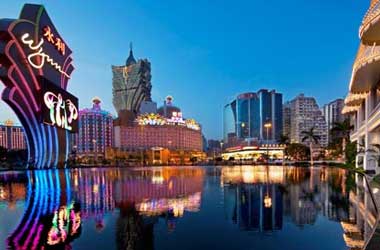 Macau casinos are set to experience a sharp decline in revenues for a third consecutive year as Macau's casino industry lost over $100 billion in 2014 and close to $130 billion in 2015 due to the infamous anti-corruption crackdown launched by Beijing. The declining trend in gambling revenue is expected to continue in 2016 and Macau's casinos have been warned to prepare for the worst.
Some of the biggest gambling companies in the world such as Las Vegas Sands Corp, Wynn Resorts, SJM Holdings, MGM Resorts and Crown Resorts have made significant investments into Macau's casino industry and the market slump has hurt their overall performance and share prices.
Some of these billion dollar enterprises are in the process of opening out new casinos on Macau's Cotai strip and the sudden market shift has left their investors sceptical about future prospects in the world's biggest gambling hub.
The Melco-Crown partnership opened Studio City, a $3.2 billion mega-casino resort in October 2015 amidst this market slump. The company was forced to diversify market strategy from the norm of targeting VIP gamblers to focusing on mass market gamblers and a family audience. Fitch Ratings have reported that SJM Holdings was the biggest loser amongst the big players with a 78 percent decline in revenue, followed by Wynn Resorts with a 73 percent decline.
Australian billionaire's James Packer's Crown Resorts lost 59 percent of its value since 2014 while Sheldon Adelson's Las Vegas Sands Corp has lost 59 percent. Billionaire Steve Wynn launched an attack on Macau's government and their sudden change in gambling policies in October 2015.
In a statement, Wynn said
None of us are really clear on what our environment is going to be like going forward, and it makes planning and adjusting almost a mystical process. The notion that a person who spent $2.5 billion — I'm talking about Melco now — would not know how many tables they're going to have three weeks before they open is so preposterous that it's worthy of comment. We are hopeful that we'll be able to press the issue and get more clarity from the leadership of the local government.
Macau's government is also reeling from the collapse of the casino industry as it generates the major portion of the government budget. However Macau's chief executive has confirmed that there will be no let us in the anti-corruption crackdown and hence very little hope for a market recovery in 2016.
---