Macau Government Sends Positive Sign To Struggling Casino Industry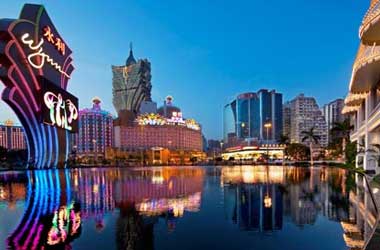 Macau's casino industry has been in decline ever since Beijing imposed its anti-corruption crackdown. The crackdown specifically targeted VIP gamblers from Mainland China who would cross over frequently into Macau to play high stake games at Macau's luxury casinos.
The crackdown which started during the early part of 2014 scared away these VIP gamblers who did not want the authorities to investigate them and their source of funds.
Macau's government extended full co-operation with Beijing and also amended its laws by introducing a smoking ban in casinos and cutting down on the number of tourist visas granted to Mainland Chinese.
Macau's casinos were the biggest losers and reports suggest that the casino industry lost around $100 billion in 2014 and continued to lose money in 2015.
Casinos waited patiently each month to see if Macau's government would change its stance on the strict regulations imposed on the industry because they realize that Macau derives most of its revenue from the gambling industry. After nearly eighteen months of waiting, they finally got some good news when Macau's government announced that they had decided to amend the existing visa policy and relax the norms for Mainland Chinese tourists.
The earlier visa policy permitted Mainland Chinese to stay in Macau for a maximum of 5 days and permitted them to enter Macau twice every 60 days. The new relaxed visa policy will allow Mainland Chinese to stay for a maximum of 7 days and be able to visit Macau twice every 30 days. The government decided to change its visa policy in an effort to encourage Mainland Chinese to start coming back to Macau. As far as Macau's casinos are concerned, this is the first step in the right direction by Macau's government in reviving its struggling casino industry.
In a statement, Anthony Wong, a UBS Securities analyst said
High-frequency gamblers across segments can now visit twice every 30 days vs. twice every 60 days. This might also suggest that current demand has reached a level the government feels a need to act to support it from falling further.
The first positive sign from Macau's government was enough to cause casino stocks to climb. Wynn Resorts shares went up by 3.9% to $97.62, Las Vegas Sands had a 4.1% increase to $52.17 and MGM Resorts reported an increase of 3.3% to $18.23. Macau's gross gaming revenue in June was expected to have a 38% decline but reports showed that the decline was only 36% further suggesting that Macau's casino industry might be on the road to recovery.
---