Macau Casinos Complete One Year Anniversary Of Revenue Decline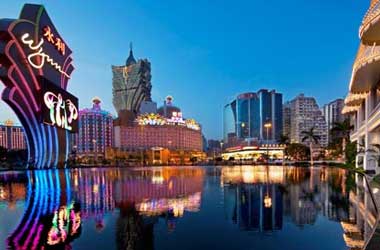 Macau, the biggest gambling hub in the world has been under close surveillance of the Chinese authorities for 12 months and this close scrutiny has scared away Macau's VIP gamblers who used to frequent the casinos and spend large sums of money playing baccarat, poker and other table games.
Macau's Gaming Inspection and Coordination Bureau confirmed that for the 12th month in a row, gross gaming revenue has dropped and will continue to do so in 2015. Macau's casino revenue last month was estimated to be around $2.55 billion which is a drop by 37.1%, very close to the 38.5 % that seven Bloomberg analysts had earlier predicted.
Macau which once made over 5 times the revenue of Las Vegas has made most of its revenue from VIP gamblers who cross over from Mainland China. UNLV Center for Gaming Research state that these VIP gamblers mostly play baccarat which contributes to nearly 60% of Macau's gaming revenue. Now that Beijing has cracked down on VIP gamblers from the mainland they have decided to stop gambling in Macau and as a result all the mega casinos such as Wynn Resorts, Las Vegas Sands and MGM Resorts International have suffered a steep decline in profits.
Yet these billion dollar establishments are going ahead with the construction of new casinos in Macau and are not letting the anti-corruption crackdown or the decline in Macau's casino revenue affect their expansion plans.
Industry analysts recently reported in a Forbes article that
Big players choose to lay low, and as the drive has continued and widened its scope, fear has spread, inducing more players to stay away, visit less often or go to other destinations where they believe they can better avoid scrutiny from mainland authorities. Namely, we believe that there exists a large pool of VIP customers who are patiently sitting on the sidelines waiting for the all-clear message to be sounded. Although we do not believe the anti-corruption drive will cease, we do believe that at some point, it will begin to wane, and those who feel the least at risk will return to Macau.
Sheldon Adelson, the chairman of the Las Vegas Sands Corp shares this view and states that he will continue to remain positive and proceed with his plans of building another mega casino resort in Macau. Adelson which is expected to have a half size replica of the Eiffel tower.
---