Jefferson's $40 Million Casino Opens Its Doors To the Public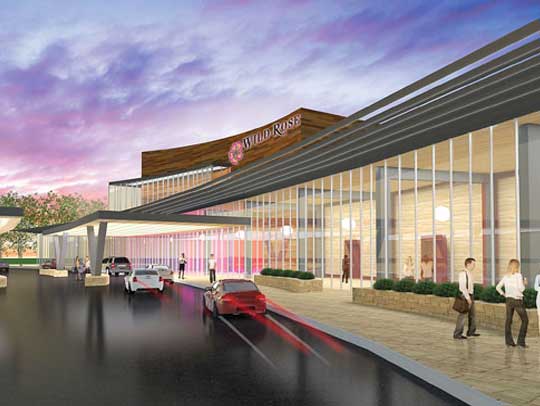 The Wild Rose Casino & Resort in Jefferson, Iowa opened its doors to the public on the 13th of July at 3 pm after doing a soft launch. The Jefferson casino is situated at the intersection of Iowa Highway 4 and U.S. Highway 30, which is around 65 miles north west of Des Moines.
The $40 million casino had a good response on the first day as locals thronged the casino to take a shot at the slot machines and blackjack tables.
The casino will be officially opened on the 1st of August 2015 and a hard launch will take between the 7th – 9th of July. The owners of the Jefferson casino are also in the process of constructing the Cobblestone Hotel & Suites which will have a total of 73 rooms.
The property is located adjacent to the casino and is being constructed at an estimate of around $5 million.
The casino has a 18,000 square foot gaming floor which supports 14 casino tables and 536 slot machines. The casino-events center is expected to create over 250 jobs in Jefferson and is expected to generate around $7 million in annual revenue.
The Jefferson casino did a soft launch to test the waters and see how the local people respond. Over 550 people visited the casino on the first day and their initial feedback was positive. The casino could only do a soft launch because the events center and the restaurant are in the final phase of construction. The casino will be opened from 8 am till midnight during the soft launch period and will then function between 8 am to 2 am on weekdays and operate round the clock during weekends.
There are around 9,200 residents in Jefferson and the small community is expected to get a significant financial boost from the new casino. The casino is also expected to create a number of job opportunities and locals who are interested in the gambling industry can apply directly to the casino.
In a statement, Chuck Offenburger, a former Des Moines Register columnist said
This is a real turn-around time for Jefferson and Greene County. This is a county where the population has not grown in 115 years. While the ag business is terrific around here, we have lacked for facilities to encourage tourism. Specifically, we have lacked a nice hotel and conference center. With the Wild Rose Casino & Resort, we are getting all of that in one project.
---