James Packer Roughs Up Crown Casino Melbourne Security Guard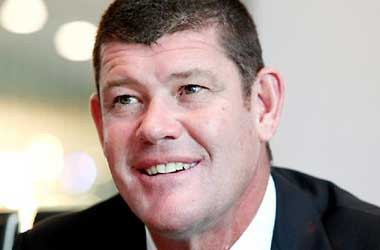 Australian billionaire James Packer was involved in an altercation with a security guard of the Crown Casino in Melbourne who denied him entry as he failed to recognize who Mr. Packer is. The incident is said to have occurred on New Year's Day when Mr. Packer and a colleague from Crown, Mr. Ishan Ratnam tried to enter Crown Casino in Melbourne. The Crown Casino is part of the Crown Resorts group where Packer is the majority stake holder and former chairman of the group.
The confrontation happened at the bridge entry to the main gaming floor at Crown Towers when the guard barred Mr. Packer from entering even though he was informed that a VIP was about to approach him shortly.
Security at the Crown Casino in Melbourne is stringent as the casino complex is said to be a target for underworld figures that use the casino for money-laundering, loan-sharking and drug crimes. Data released by Victoria's new Crime Statistics Agency in 2015 reveals that 1180 assaults, 80 sexual assaults, 50 robberies, and 13 abductions took place at the Southbank complex, out of which at least 50 percent is said to have occurred inside the gaming complex. In addition to this, stats show that 7,600 non-violent crimes have been committed around the venue since 2005. The 24-hour open gaming complex which attracts approximately 52,000 visitors a day has also been in recent news as a number of player at the casino have been arrested on drug related charges.
The security guard Dr. Iskandar Chaban stated that he was only doing his job when he stopped Mr. Packer who then got abusive and physical in his response. Chaban stated that Packer and his colleague ganged up and verbally abused him, pushed him and threatened to terminate him. Chaban collapsed from shock and back pain as a result and was taken to the hospital later that day. Crown Casino has however played down the incident stating that it
was a minor altercation caused by a misunderstanding.
In a statement, a spokeswoman from Crown Casino said,
A contract security officer, working inside the resort was radioed that one of Crown's most important VIPs was approaching his position, but failed to recognise Mr Packer, moving in front of him to attempt to physically block him from entering the casino and causing a collision. It's understood that a verbal altercation ensued and Mr Packer continued into the facility.
Dr. Chaban held that was doing his job but the way Mr. Packer and his colleague treated him was "inhuman." His claim that he was fired after the incident has been denied by Crown Casino saying that Dr. Chaban was suspended after the incident, but was subsequently reinstated after a review. The guard has engaged the services of Melbourne law firm Maurice Blackburn to file a case seeking compensation.
---