Jamaica's Two Integrated Casino Projects To Commence In 2016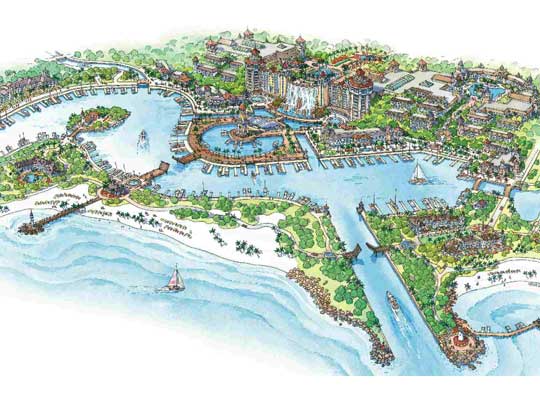 Jamaica is in the process of welcoming two major casino resorts that are expected to start construction by mid-2016 according to the latest news reports. They are expected to provide Jamaica with a major boost by creating a number of employment opportunities and increasing the overall tourist rates to the island.
The projects, "Celebration Jamaica" and Harmony Cove were granted approval under Jamaica's new Integrated Resort Development and Casino legislation and will be breaking ground soon for construction to commence.
The casino resorts are required to build a total of 2,000 hotel rooms each and can be rolled out in two phases. The government has confirmed that once each resort has completed 1,000 rooms or Phase 1 of the project, a casino license will then be issued. These mega-casino resorts will also have a massive gambling floor and a number of entertainment facilities that are non-gaming as well.
Harmony Cove is a partnership between Harmonisation Limited which is state-owned and Tavistock Group which is a global investment company and the state will own 49 percent of the venture. Formal announcement on the project launch and other related details including revised financing arrangements which is said to now have a Chinese backer will be made shortly by the Jamaican government.
In a statement, Dr Lorna Simmonds, executive director of Harmonisation Limited said,
All key stakeholders have been secured and we are working through the paperwork and are in various stages of completing the financing. Announcements will come soon and from the highest quarter of government … in coordination with Tavistock and through the prime minister and the minister of finance.
The casino resort will be developed on a 2,300-acre property in Trelawny and will feature a casino, golf courses, a luxury spa, convention and entertainment centers and hotels. The master plan for the project has now been reworked from its earlier release and the budget for its first phase has been increased to US$1 billion from US$970 million. The plan was redesigned to make it more environmentally sustainable. The amended proposal will now feature "multiple lodging" options with villas, small and large hotels and a wide variety of amenities and attractions.
The second resort is Celebration Jamaica which will be built on 90 acres in Rose Hall in the greater Montego Bay area. Celebration Jamaica Founder Robert Trotta has said the project would aim at "celebrating all things Jamaican and Jamaican music in particular."
This project will also have a total of 2, 000 rooms and the first phase of the project will ensure that 1,000 rooms will be completed at the earliest. The resort will also feature a state-of-the-art music studio, a 1,200-seat theatre, a banquet hall and a casino. Casino experts from Canada, with experience of developing and operating 30 casino properties across the globe, will be working on the Celebration Jamaica resort design plans.
---