George Clooney Clears The Air With Casino Billionaire Steve Wynn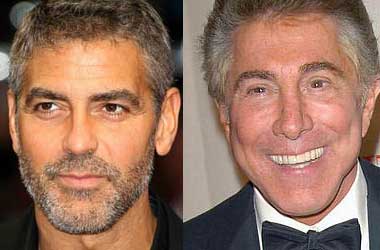 Two of the biggest celebrities in America made headlines in April when they were involved in a public spat. Hollywood heartthrob George Clooney and Casino Mogul and Billionaire Steve Wynn got into a heated exchange in public and the spat was splashed across all the tabloids and internet.
Wynn was the first to make a statement and said that Clooney drank too much and was unable to hold his liquor. Clooney apparently drank 16 shots of tequila and then launched into a political conversation where he was rooting for Obama and his administration. Wynn who is not a fan of the Obama administration also had a few things to say that offended Clooney, Clooney then decided that enough was enough and left the table in a huff.
This week, George Clooney decided to clear the air as he said Wynn did not give an accurate description of what took place and he wanted to set the record straight. Clooney told people magazine that he and Wynn were not friends and that they had met only three times. Clooney said that the claims made by Wynn were false and he did not drink 16 shots of tequila, infact he never even had one shot.
Clooney admitted to having a few drinks but said he was certainly not drunk as he still had two more events to attend. He did take offence to Wynn calling the President an asshole, something that Wynn denies. Clooney states that Wynn's version of the story can easily be disputed as there were 8 witnesses at the table who can vouch for the exchange that took place.
Clooney appeared to be riled by Wynn's tirade on Obama and took offence because he believes that Steve Wynn has had a very comfortable life and does not know the hardships faced by regular people in the real world. Clooney states that he can related to the common man better as he has been broke in his life, worked as an employee and knows the pain of trying to make two ends meet. While appreciative on Wynn's success and wealth, he said the casino moghul had no idea of what it was like to live in the real world as he was surrounded by employees who always said yes to his every whim and fancy.
The tabloids don't really care about who is right or who is wrong as celebrity gossip makes good press in America. The tabloids are hoping Wynn will respond to Clooney's statement soon and give them a few more headlines.
---