Detroit Leaders Want Casinos To Fix Labor Problems Quickly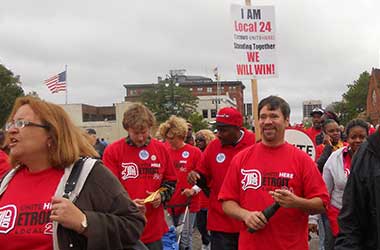 The issues with the three Detroit US casinos and the labor unions has caused serious concern for the Detroit government as both parties have been in talks since August but have not been able to reach a mutual decision.
Things escalated last week as the Detroit Casino Council decided to ask its members to go on a strike which would severely impact MGM Grand Detroit, MotorCity and Greektown which are the three casinos who have not given into the demands of the union.
The Detroit Casino Council is made up of a number of unions including members of Unite Here Local 24, UAW Local 7777, the International Union of Operating Engineers Local 324 and Teamsters Local 372 and have a total membership of over 6,000 casino workers.
The union workers have been pushing for a number of benefits, especially for members to retain their same health benefits without having to pay any increased premiums.
Casino representatives have made it clear that due to the risking costs they will not be able to offer the same health benefits without raising the premiums. The only way for them to adjust the higher premiums was to take the funds set aside for incentives and salary hikes and use it to pay the premiums, which means workers would have to work at the same salary levels they have in the past.
This solution was not accepted by the Union and they decided to strike which has created a serious cause for concern for the Detroit government as the casino industry is responsible for generating a little over 16% of the city's revenue which is a total of $170 million or around $3 million per week. Consider the state of the economy in Detroit and the revenue generated per week, the government wants this problem to be solved at the earliest.
In a statement, Sandra Poinsetta, vice president of Unite Here Local 24 said
Gaming industry jobs are extremely important to the city of Detroit. Together, we are trying to address the challenges of increasing healthcare costs, while working to build a strong future for this industry and the thousands of people in this region whose livelihoods depend on it.
The two sides are supposed to have a total of four meetings during the next couple of weeks and will be closely monitored by the government. Meetings are expected to take place on the 9th, 10th, 16th and 17th of November and the government remains hopeful that a mutually agreeable solution will be reached shortly.
---