Chukchansi To Resume Operations On 31st December 2015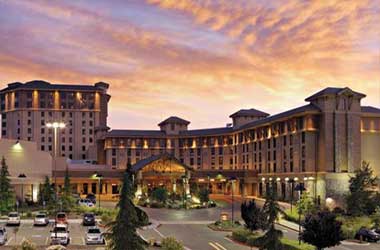 The Chukchansi Gold Resort & Casino was shutdown in October 2014 after internal disputes among tribal members and a raid which discovered that the casino was not maintaining their accounts and having no record of audits for the last two years. The shutdown cost the tribe millions of dollars and over 1,000 casino employees found themselves without work.
There has been a lot of discussions during the past 12 months with tribal officials, the state government, federal government and the authorities and an agreement was finally made allowing the Chukchansi tribe to re-open its casino on the 31st of December 2015 in a soft launch while an official launch will take place on the 15th of January 2016.
The tribe has had to agree to a number of stipulations to get the casino open, some of these stipulations include paying a $500,000 fine to the federal government during the next year, being prepared to subject their accounts to audits as required, making two $12 million dollar loan payments each year to clear its outstanding debt of $250 million, allotting office space at the casino for a deputy office to be stationed, maintaining an fire engine on the premises for the safe keeping of its customers and ensuring that the casino fully co-operates with tribal gaming policy and the stipulations laid out by the authorities.
In a statement, Claudia Gonzales, Tribal Chairwoman said
Since our (October) election, the Tribal Council has worked every day with our government partners, casino management team and local business partners to get Chukchansi Gold Resort and Casino ready to open. We are thankful for the support of our members and believe this is an important first step in bringing prosperity back to our people.
The soft launch will see the casino function at almost full capacity as 1,700 slot machines and 22 table games will be available to patrons along with 220 hotel rooms. The casino has invested $35 million into the re-modification and re-opening of the casino and expects its remaining 200 hotel rooms to be open to the public before the end of 2016. The casino will also house seven restaurants that are expected to open before the end of January. The casino is complete its hiring process of nearly 1,000 casino employees during the coming months as the casino becomes fully functional.
---