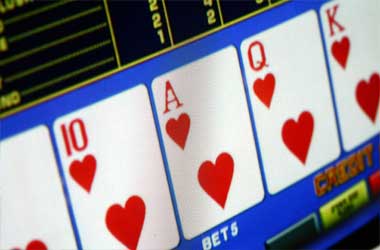 For some casino game players the game of Video Poker is not really the action packed type of game that appeals to them, and it will take a lot to sway a slot game player for example to start playing the many different types of Video Poker games that are available online.
However, once you understand just how Video Poker games work and operate, and discover that they offer payout percentages way higher than most other casino games, then a savvy player can find these games not only offer quite enjoyable playing sessions, but also can reward you with some huge winning payouts.
In this Video Poker Strategy guide we are going to present to you a range of different variants of the game and highlight those games which by virtue of the pay tables attached to them, offer you the best chances of winning.
Like any other type of casino game there are both great paying Video poker games and some which you ought to not bother playing due to the pay tables in play on them, so do have a good look through this guide for it will certainly enlighten you on which Video poker games you should be playing and also how to play them to get the best paybacks!
Selecting the Best Video Poker Game to Play
We have chosen to stick to the major movers and shakers in the online casino software industry, and have listed below the four top companies whose gaming platforms can be found powering many of the biggest online casinos.
These four companies are Playtech, Microgaming, NetEnt and IGT Interactive, and by playing at any casino using their gaming platforms you will be playing certified fair Video Poker games, and games that offer multiple stake levels to suit every players budget.
Top Paying Microgaming Video Poker Game – You will be blessed with dozens of different video Poker game choices whenever you play at a Microgaming software powered casino site, each game offers something unique either by its pay table listed payouts or the structure of the game.

You need to concentrate your efforts and play their All Aces Video Poker game variant, for this has the best payback percentage which is a mighty and very impressive 99.92%, on the other end of the scale they have a Joker Poker game which boats a payout percentage of just 98.60%, and it doesn't take a genius to work out which one of those two variants offers you the best winning chances!

Top Paying Playtech Video Poker Game – It should be noted by players playing at a Playtech software powered casino site that you will be able to play multi hand variants of many of their available Video Poker games, and some of these multi hand variants of the same game have worse pay tables in force on them.

The best paying Video Poker game that Playtech offer is the game of Jacks or Better, however it is the single-hand variant which offers the most generous pay table which returns a payout percentage of 99.54%, the 10 hand variant has a lower pay out percentage of 97.30%, so make sure you play the former and not the latter version of this game!

Top Paying NetEnt Video Poker Game – One thing to keep in mind when playing at a NetEnt powered casino is that their multi hand Video Poker game variants have worse pay tables attached to them than their single hand variants.

However one advantage of playing at such a site is that their Jacks or Better Video Poker game variant has the highest payout percentage on offer, and it is actually larger than the industry standard Jacks or Better payout percentage found at other casino sites, and when playing this game perfectly it will return, over the long term, a payout percentage of 99.56%.

Top Paying IGT Interactive Video Poker Game – You are not given many different Video Poker variants to play at IGT Interactive powered casino sites, so if you are playing at any casino powered by this software company, make your way over to their Jacks or Better game which has the industry standard pay table attached to it, which returns a payback of 99.54%.
Playing Perfect Video Poker Strategy
Once you have chosen a Video Poker game to play, you need to take a good look at the pay table attached to that variant, and see if the jackpot paying hand is enhanced in value when playing maximum coins per hand.
The majority of Video Poker games will let you play from one to five coins per game, and most of them have an enhanced jackpot payout when playing maximum bets, and if this is the case you should always put maximum bets into play, for if you don't then the actual payout percentage of that variant will be lower than it would be if you play maximum bet hands!
When you have chosen just how much you wish to wager on each hand of Video Poker and once you have given the Deal button a click, you then get dealt out five initial cards, and this is where you need to know which of those cards to hold and which to discard based on the perfect playing strategy for the variant you are playing.
There are of course thousands of permutations of cards that can be dealt out to you, and as such knowing which ones to hold and discard is not going to come easy to a novice player. However, many casinos have a special Auto Hold setting, which is usually found under the options tab, and if the casino you are playing at does boast the feature turn it on!
For when you turn on the Auto Hold feature after your initial five playing cards have been dealt out the game instantly and automatically holds the best cards for you based on perfect playing strategy, and as such you no longer have to guess which cards to hold, as the game will do it for you!